Charcuterie boards can be intimidating when you don't know where to start. The pressure to create the most pristine presentation or to know everything about flavor combinations distracts people from what charcuterie boards are really about: gathering together.
A simple charcuterie board lets you share your favorite fall flavors with your closest friends. Try these tips for a delicious, no stress fall charcuterie board!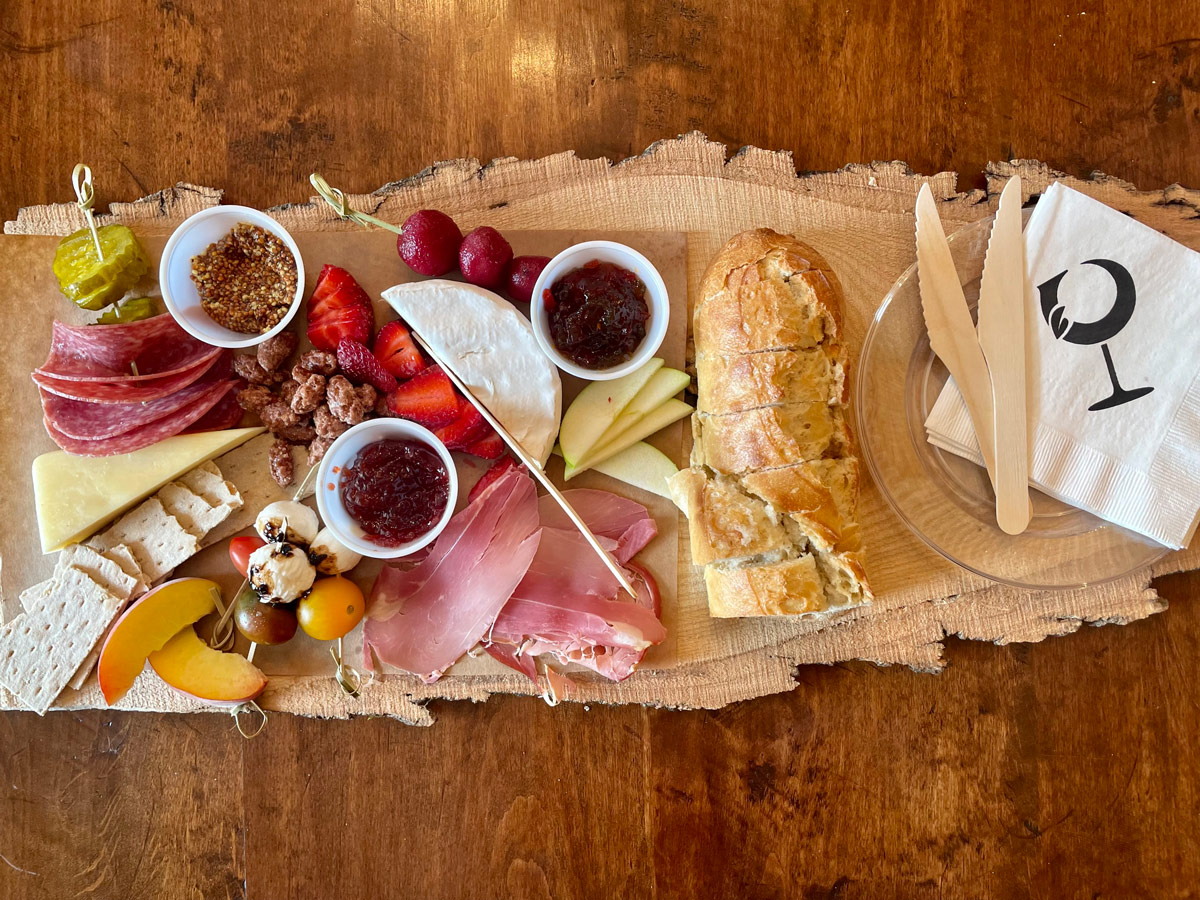 Start with a variety of cheeses
Picking out a few kinds of cheese gives you a solid foundation for the rest of your board. Here are some seasonal ideas to get you started.
Cheddar cheese is a bold, classic flavor. If you're looking to try something new, branch out with a flavored cheddar like apple cheddar, cranberry cheddar, or even pumpkin cheddar.
Gruyere is an alpine-style cheese that balances earthiness and slight sweetness to give you that warm, fall feeling. Gouda is a satisfying alternative to gruyere with its nutty, caramelized flavor.
Baked brie is a gooey, crowd-pleasing centerpiece. For extra decadence, add on some honey, jam, nuts, or cinnamon apples (fresh from Chiles Peach Orchard, of course).
Pumpkin goat cheese offers another tasty, soft cheese option sure to appeal to anyone on a pumpkin kick!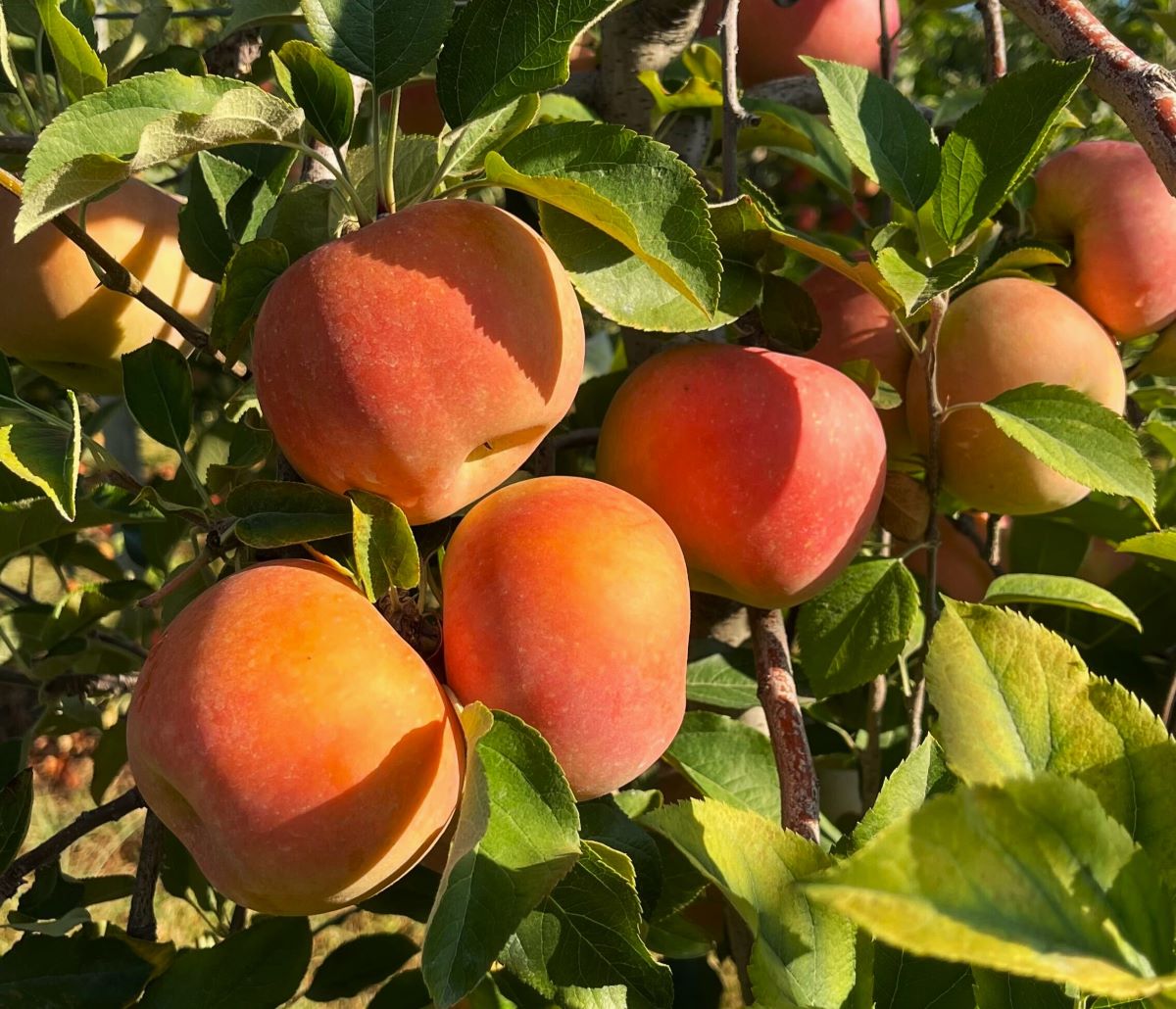 Pick local apples
When it comes to a fall charcuterie board that everyone will love, fresh apples are really what your board is all about. Apples bring out the flavors in cheese, serve as a healthy side, and can even be used as palate cleansers in between bites.
Find out which pick-your-own or pre-picked apples are in season at Chiles Peach Orchard so you can be sure to get the local produce that will make your board pop.
Gala is crisp, sweet, and light, making it a go-to for pairing with cheddar.
Pink Lady has a rich, fine flavor that goes well with pungent cheeses.
Fuji pairs with mild cheeses and high-sugar wines, thanks to its balanced flavor and classic crunch.
Granny Smith's famous tartness makes it suited for a range of cheeses, from cheddar to brie.
Golden Delicious is a creamy and mellow apple that pairs well with most white wines. Plus, its unobtrusive taste makes it a suitable choice for a palate cleanser.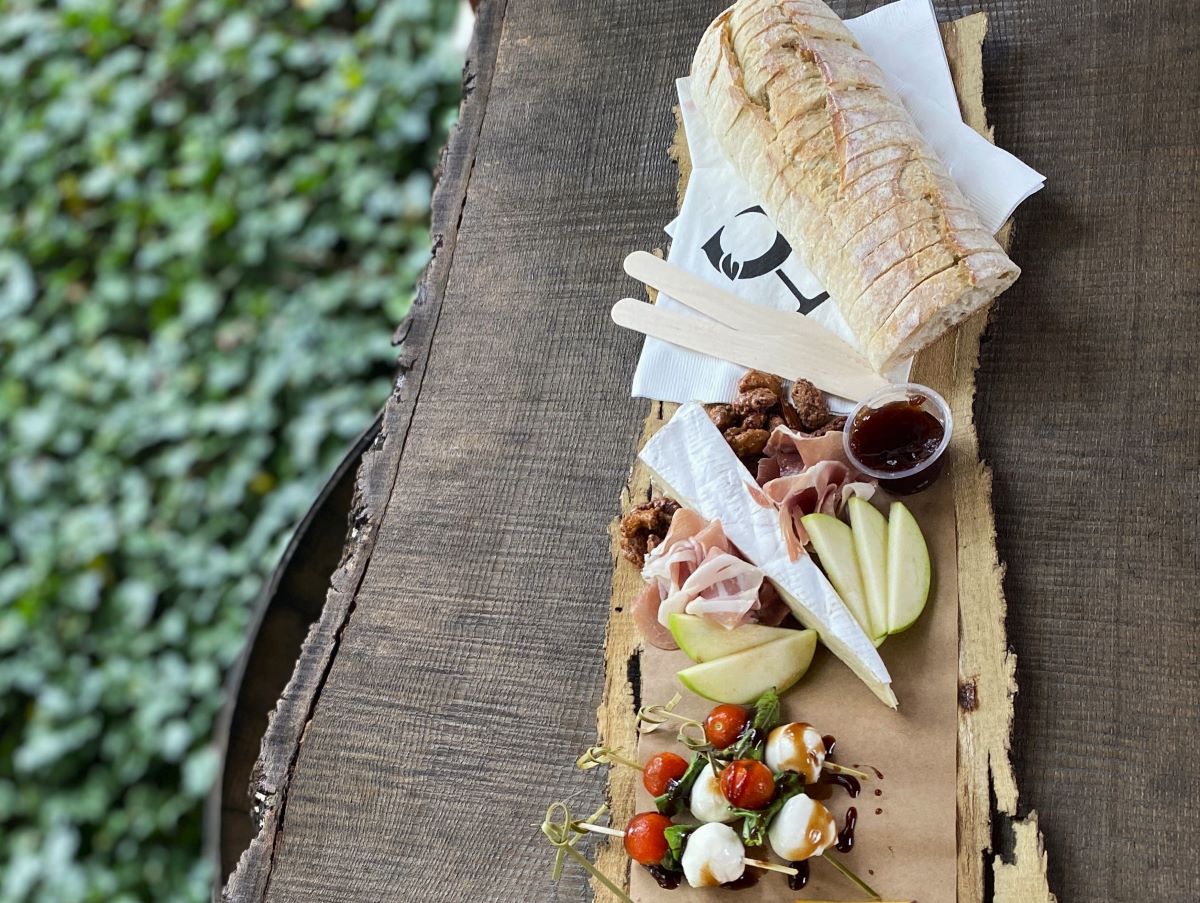 Add in the meats
Now that you know which cheeses catch your eye, you can pair them with the meat of your choice. Classic charcuterie cured meats include pepperoni, salami, mortadella, and prosciutto, but it's all about what you want to be snacking on!
Italian Salami pairs well with just about any cheddar. Its peppery, acidic flavor mixes nicely with the rich cheese.
Prosciutto is the way to go if you love gouda. The nuttiness of the gouda mellows prosciutto's salty flavor.
Mortadella has a savory and smokey flavor and can be tailored to the season with nutmeg, cinnamon, and cloves.
Plant-based salami, sliced wild mushrooms, and vegan prosciutto are tasty and accessible alternatives if meats aren't for you.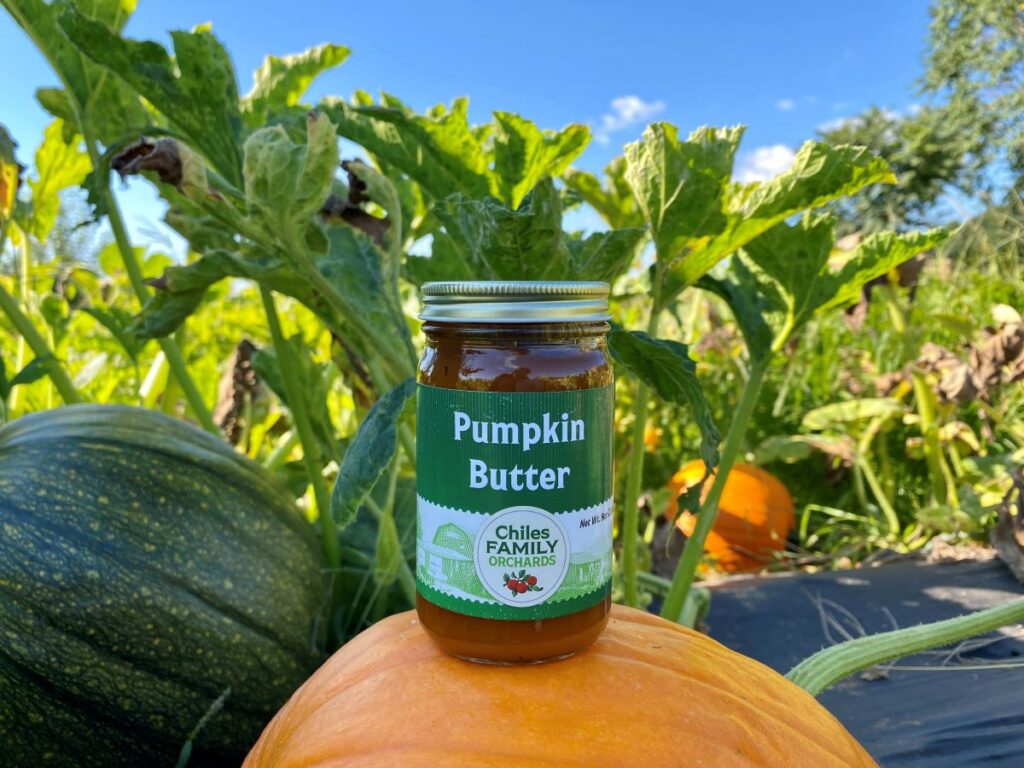 Spread something sweet
A good jam or preserve can take a bite of meat or cheese to new heights. From apples to pumpkins, the fall season is chock-full of earthy, robust options for spreads.
Apple butter pairs especially well with flavorful and pungent cheeses. Of course, its thick and creamy texture and spiced, caramelized flavor goes wonderfully with almost anything on your charcuterie board.
Local honey is a lovely addition to drizzle on fruits and cheese, and our Farm Market stocks the best local honey around!
Four Pepper Jelly spread on a cracker might just be the flavorful twist you're looking for. It will add a kick to spice things up.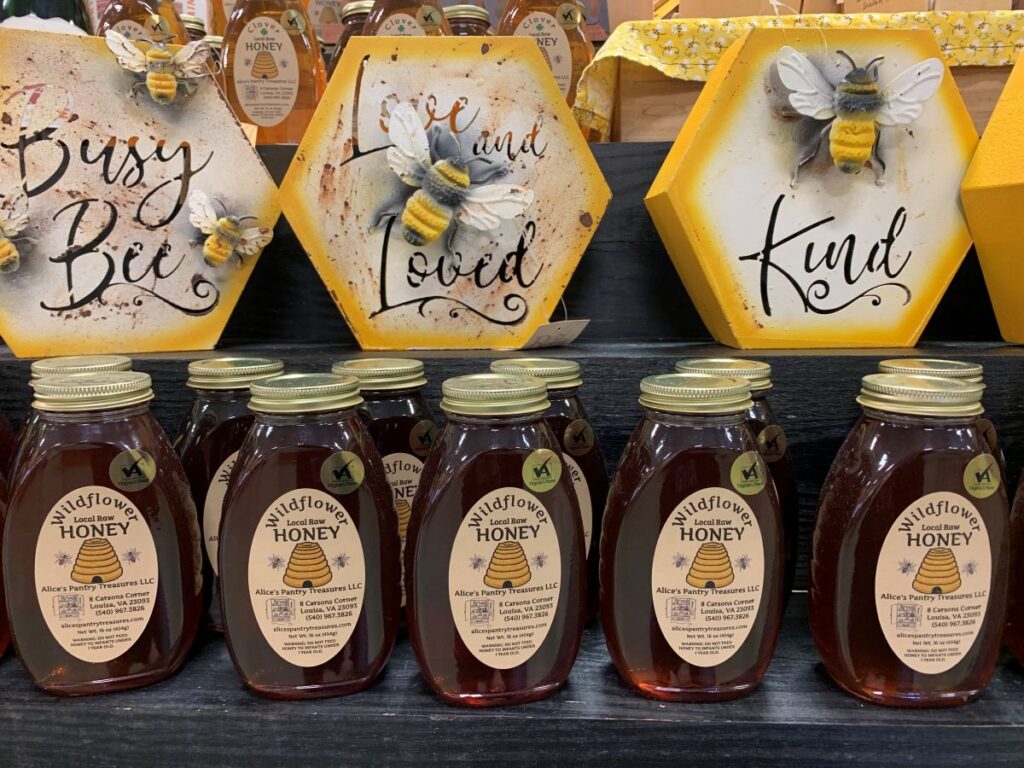 Pumpkin butter is another seasonal delight that you can add to a meat and cheese cracker or spread on some bread all by itself. Packed with pumpkin pie flavor, our Chiles Family Orchards pumpkin butter is a must-have for any fall charcuterie board.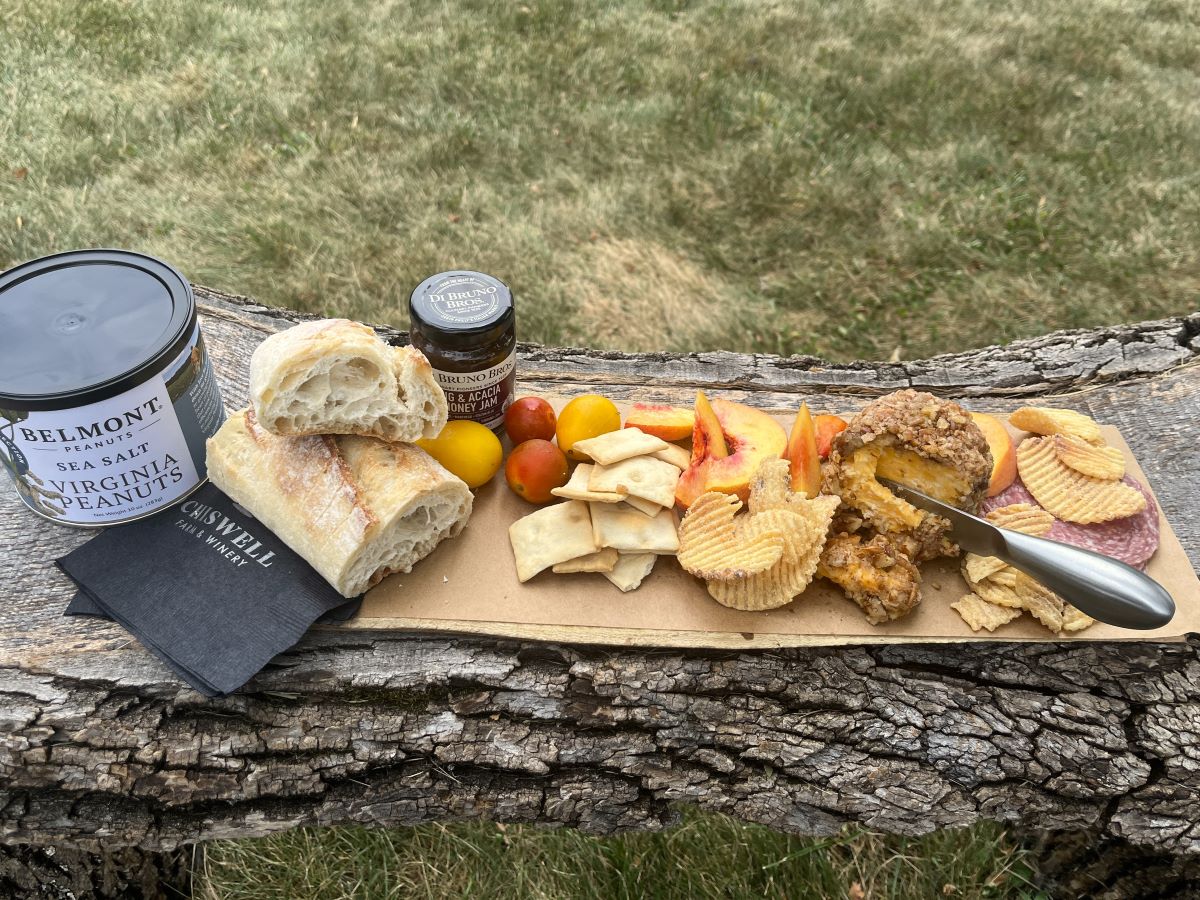 Choose your bread and crackers
Bread and crackers bring new textures and flavors, AND they give your guests fun options for stacking, sandwiching, and otherwise bringing together the other ingredients.
Typically, just like with your cheeses, you'll want a range of textures.
Wheat crackers or three-seed crackers have a hearty, rich flavor and a toasty crunch that make a great base for your meats and cheeses.
Homemade pumpkin bread is a tasty DIY that can be served on the side. If you're looking for a new recipe, let us know how you like our Cream Cheese Pumpkin Bread.
Cranberry pumpkin crackers are just the right amount of spicy and fruity, with a satisfying crunch to add variety in texture to the soft cheeses and spreads.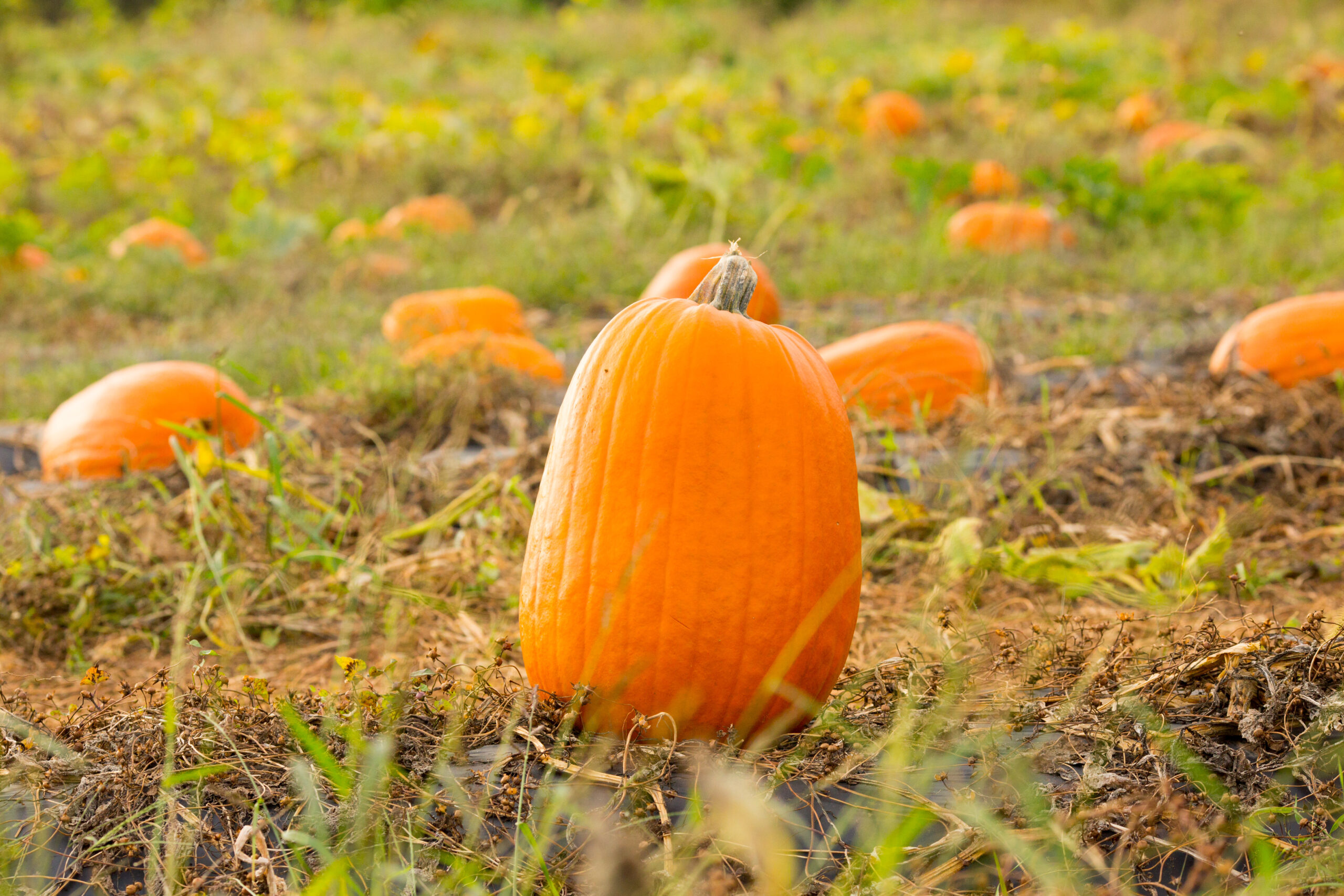 A sliced and toasted baguette is an easy, DIY alternative to crostini. These crispy delights are up to the task of holding all the cheese, meat, and spreads you can stack. You can also opt for a sweet and soft bread, like brioche, or a salty and savory bread, like focaccia.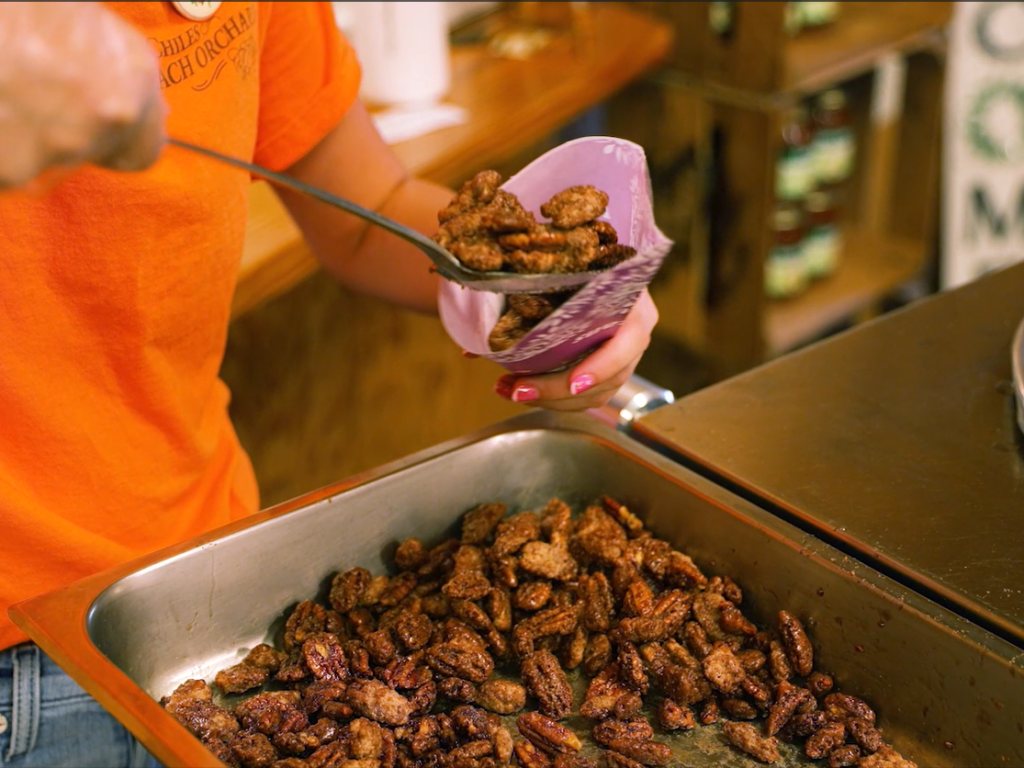 Select complementary sides
When you're not crafting a heavenly bite on a cracker, you'll want to have complementary sides throughout your board to turn to. Side snacks can range from super sweet to savory. Nuts? Seeds? Pickles? Cookies? Fudge? Popcorn? Anything goes as long as you love it!
Chocolate snacks like homemade fudge, chocolate-covered pumpkin seeds, or chocolate-covered nuts can bring a board heavy in savory items back into sweet-and-savory harmony.
Pickled items like our kickles or zesty pickled asparagus will add some much-needed vinegary contrast if your board is leaning on the sweeter side.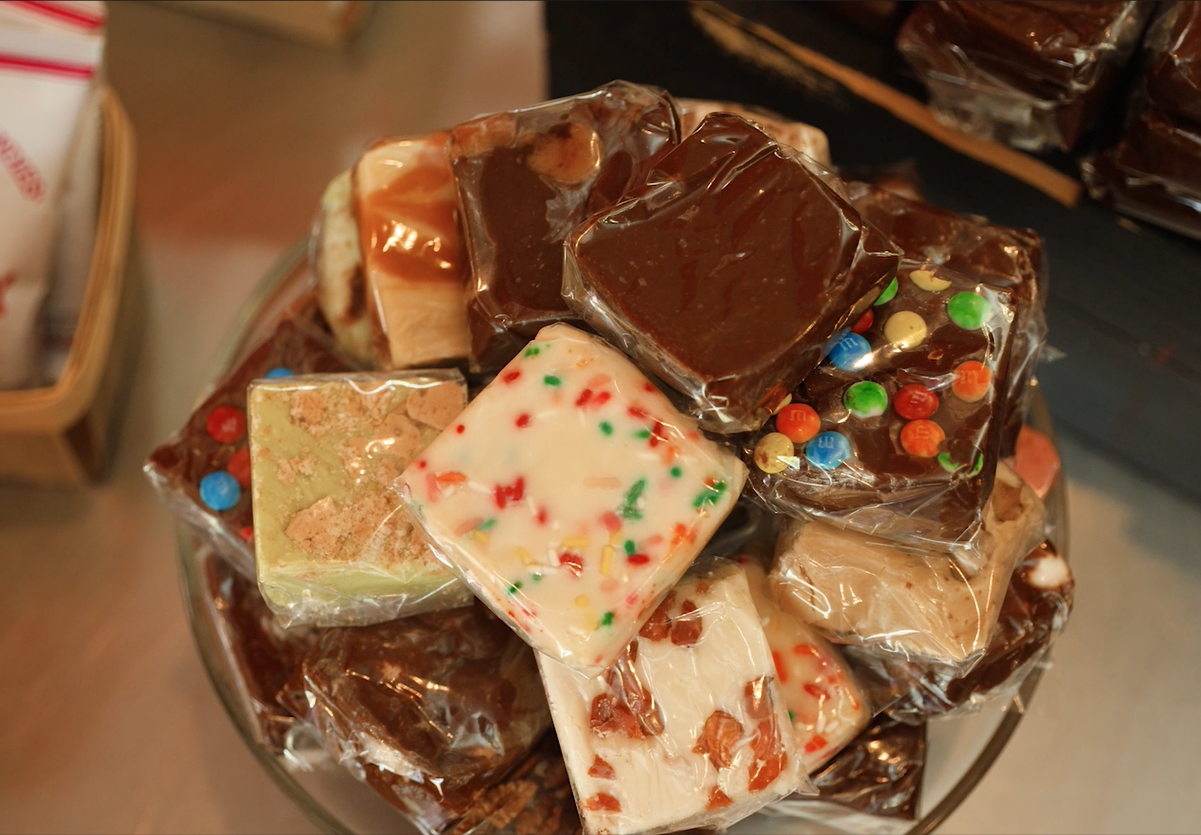 Pumpkin seeds are undoubtedly the best fall seeds. Consider picking up your very own pumpkin, so you can harvest the seeds fresh from the source. There are tons of interesting ways to season pumpkin seeds that can only make your charcuterie board better!
Candied nuts create symmetry across the board by providing a sweet and salty combo. If you're in the market for a finger-licking-good option, we roast our own candied nuts right here at Chiles Peach Orchard.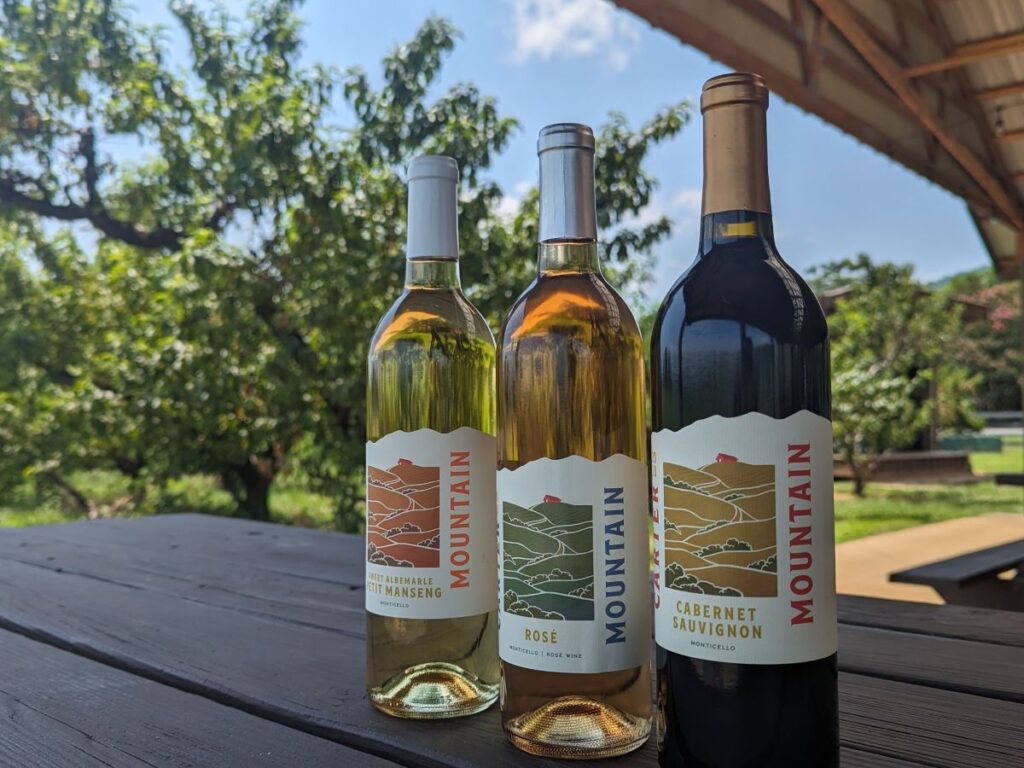 Pour the wine
Bring out the best flavors on your plate by adding a bottle of wine or cider to the spread. Selecting the right wine enhances flavors by making salt-rich food taste mellow and lighter food taste rich. Luckily, we have you covered with our selection of Carter Mountain wines.
Some good rules to go by are to always pick a wine that is more acidic than the food, has low tannins to avoid bitterness, and matches the plate in its boldness.
Carter Mountain 2021 Sweet Albemarle Petit Manseng pairs well with pumpkin and apples, and it will highlight the salty nuttiness in your gruyere.
Carter Mountain 2020 Cabernet Sauvignon has a very drinkable, fruity quality made for enhancing all of those bold, flavored cheddars and tart apples.
If you're looking for more wine to pair with your board, head on over to Chiswell Farm and Winery to peruse the full selection of our award-winning wines.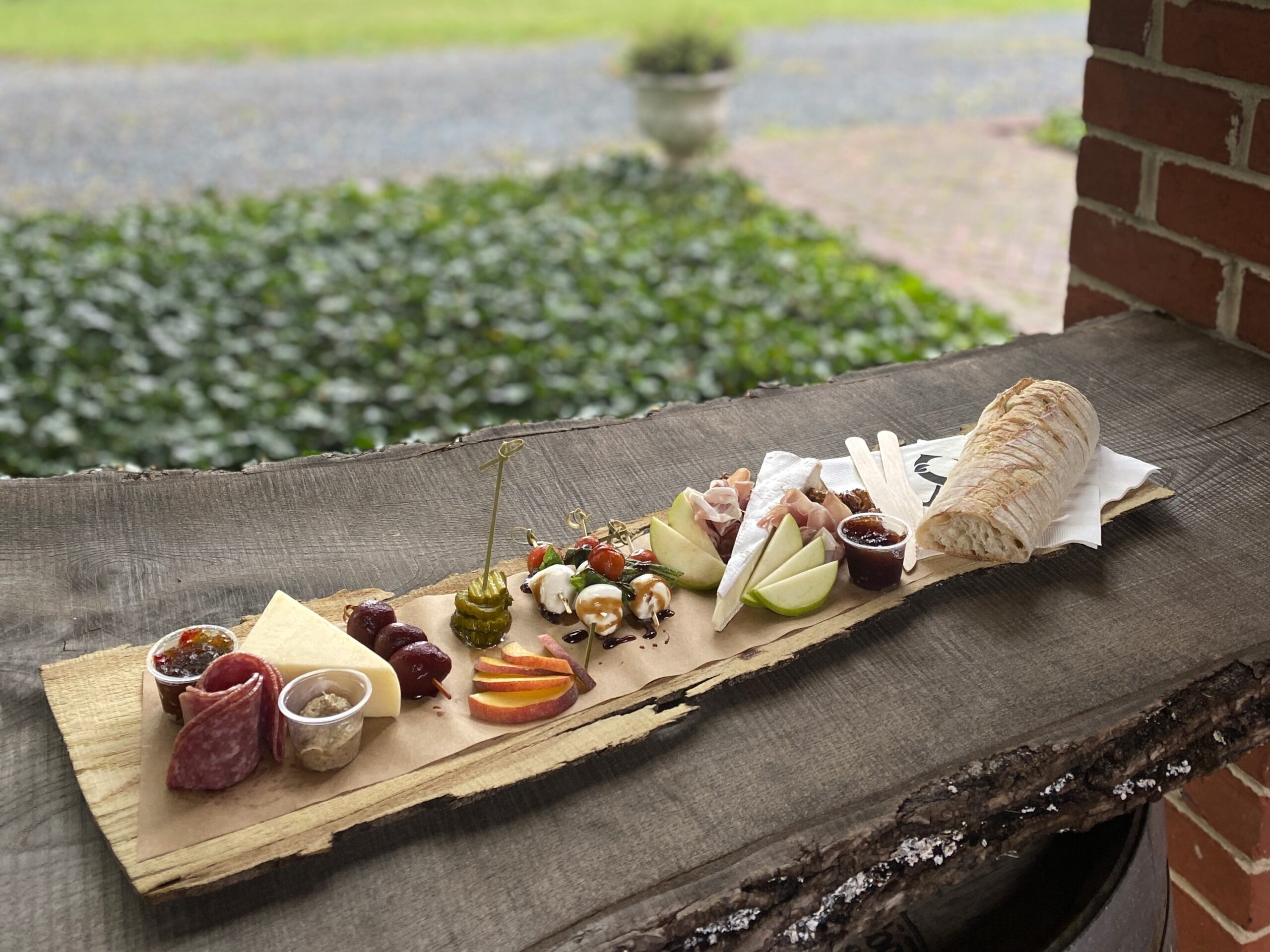 Craft your presentation
Charcuterie boards are a whole lot more about tasty treats than looking neat. Don't stress about making the perfect-looking charcuterie board. Still, if presentation is your thing, then go for it! A few tips and tricks are all you need to have a charcuterie board fit for sharing.
Pre-slice your cheese and roll your meat. This easy preparation tip will make your charcuterie board look far more put together. Also, it'll make grabbing a few things for yourself easier.
Put the items that pair well next to each other. Though you've done your homework thinking through all of these flavor combos, your guests might not have. Make it easy for them to pick up the items on the board that pair best with one another.
Keep it colorful. Remember that we often eat with our eyes, and one of the ways to ensure your board looks delectable is to select fruits, spreads, and vegetables with a variety of colors. You can also keep things cute with any of our colorful kitchen supplies, merchandise, or harvest-themed centerpieces from the Farm Market.
Try not to leave empty space on the board—fill it all up! Spread all of your scrumptious snacks out to take up the most room possible. Put small items, like pickles or nuts, in bowls to take up space and keep running juices and seasoning at bay.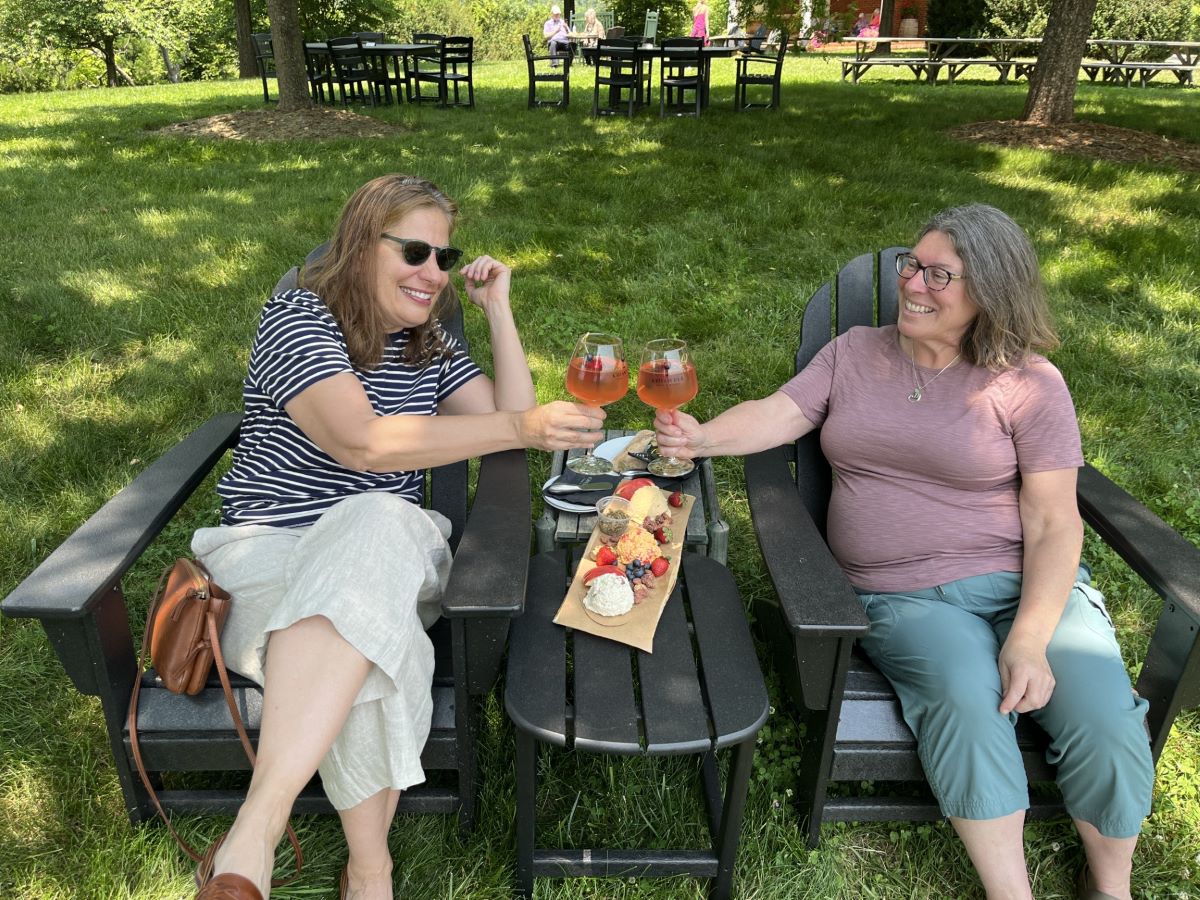 Serve and share!
The hands-down most important part of your fall charcuterie board is sharing it. You selected the food, arranged it on the board, and had fun while doing it. Now show it off!
Don't have an event to attend? Then make one for yourself! Pick up your favorites from our Farm Market & Bakery and have a party at home, or bring your board as a picnic down the road to Chiswell Farm & Winery!
After making your own easy and delicious fall charcuterie board, make sure to tag us on Instagram (@chilespeachorchard) when you post!