Visitor Guidelines
We look forward to seeing you! Here are the policies for all of our venues, as well as some insider tips, to help you make the most of your time with us.
---
The Ground Rules
No dogs or other pets are permitted due to our food safety certifications. Service dogs who have been trained to perform a task directly related to a person's disability are welcome. Emotional support, therapy, comfort, and companion animals do not qualify as service animals (per ADA) and are not permitted.
No outside food or drink at the orchards. Picnics are allowed at Chiswell Farm & Winery.
No outside alcohol is permitted by ABC law.
No smoking/vaping anywhere on property, including the parking lot and all grounds.
No bags (including purses, diaper bags, backpacks, etc.) or strollers are permitted in the orchards or fields.
No grilling, fireworks, incense, or open flames.
No hiking, running, biking, etc. on our road.
No trespassing. Our venue grounds, buildings, and roads are open to the public only during posted hours.
No recreational or illegal drugs.
No stealing. We will prosecute any and all thefts.
No weapons. The only exception is for law enforcement officers.
No vehicles over 20 ft on ticketed days—we don't have turnaround space.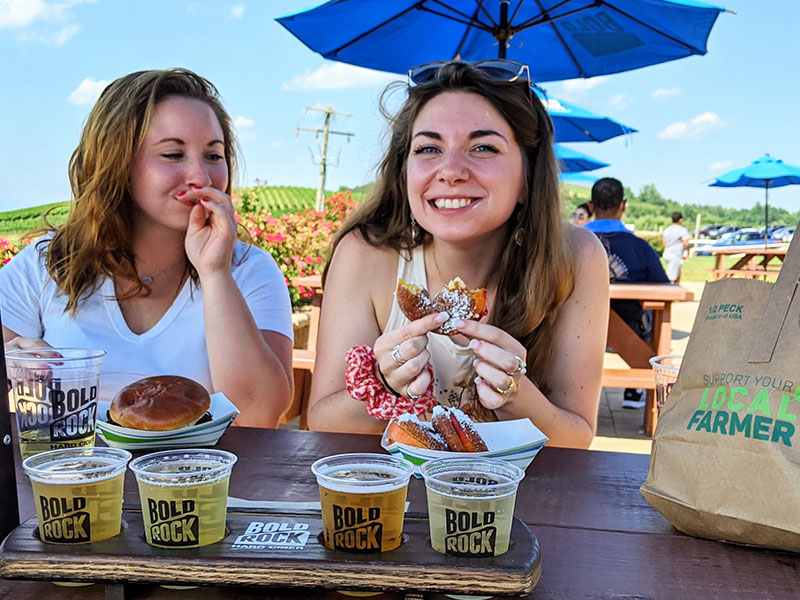 Photo and Video Consent
By visiting a Chiles Family Orchards venue you are giving your consent to be photographed or filmed. These images may be used in Chiles Family Orchards marketing materials, including social media posts, eblasts, web pages, and ads.
If you are identifiable in a photo that we publish on one of our digital platforms and would like the image to not be used again and removed if possible, please email hello@cartermountainorchard.com.
Pick-Your-Own (PYO) Fruit
Follow all instructions on our signage and from our staff members.
Before Picking
Confirm availability prior to visiting by checking the orchard's Pick-Your-Own page or calling ahead. If you are visiting during a peak season, you may need a ticket in advance.
Limit the size of picking parties. Only those with our picking containers may enter the orchards.
Arrive at least one hour before closing, or on the time of your ticket.
Check-in at our picking station prior to entering the fields.
Pre-pay for PYO fruit. Only containers provided by the orchard will be permitted for picking. At least one container for every 2-3 people in your group must be purchased.
No personal bags—ex. backpacks, purses, diaper bags—are permitted in the fields.
Strollers must be parked at our picking trailer; they are not permitted in the fields.
While Picking
Do not eat fruit in the fields. You should wash all fruit at home prior to consuming it.
Do not mix fruits. Separate containers must be purchased for each fruit (when applicable).
Bags and boxes can only be used once during your visit; do not empty them out and then refill while at the orchard. Don't overfill the bags and boxes.
Do not throw any fruit on the ground. Any fruit you touch must go into your picking container. (Parents, watch your children!)
Only pick in the areas you are instructed to enter. Not all fruit is ripe at the same time.
Please exit the fields once you fill your containers. If you need more containers, please see our staff and we are happy to help you.
Respect Your Surroundings
Only pick in the areas you are instructed to enter. Keep in mind that our venues are also working farms—not all areas are open to the public.
Be kind to our trees. Do not climb the trees or shake the branches.
We do not provide stick pickers. If you choose to bring your own, it must be an "official" fruit picker, and not a homemade version, as these are not effective and cause fruit to fall to the ground. No butterfly nets, pool nets, soda bottle on a stick, etc.
Dress properly. Be prepared for a walk of anywhere from 5-15 minutes to your picking destination in the orchard. Depending on the weather, it may be dusty, muddy, slick, etc., and the ground is hilly and uneven. Sturdy, close-toed shoes are recommended. Although we do our best to keep poison ivy at bay, long pants are preferable. Don't forget your sunscreen!
Please put litter in its proper place. Trash cans are provided around the property.
Watch your children. Parents are responsible for their children's actions at all times.
---
FAQs
Can we just pick any fruit I see?
Not all varieties are ripe at the same time. We carefully monitor the orchards and only open for picking the areas that have ripe fruit. Our staff will direct you to the current picking areas—please respect our property and stay in these areas.
Can we taste the fruit in the orchard?
If you must, you may sample one. Keep in mind we always recommend washing your fruit before eating it. Please do not be wasteful.
Can we book a photography session?
Can we bring our dog with us?
We regret that we do not permit any pets on any of the properties. Please leave your furry friends at home. Only service dogs who are trained to perform a task directly related to a person's disability are allowed.
Can we walk during closed hours?
Our venues are also working farms, and are not open to the public other than during our posted public dates and hours. Please respect our hours of operation and do not visit outside these hours—it's trespassing.
I'm interested in booking a private event with you. What do I do?
We are able to host private events—such as weddings, reunions, company picnics—during certain times of the year. Call or email the venue where you're interested in hosting your private event to inquire about booking.
Please note, Carter Mountain Orchard is not available for private events from mid-September through October, as this is our busiest time of year!