A Family Tradition
For over one hundred years, the Chiles Family has been carefully tending its orchards. Beginning with a card table, cigar box, and roadside stand, the first generation of the Chiles Family sold the fruit of their labors to neighbors and folks passing through. Since that time, the orchards have grown to become community favorites and destinations for visitors far and wide.
Today, at one time or another, the third, fourth, and fifth generations of the Chiles Family can be found planting, pruning, picking, or otherwise providing fresh produce to Central Virginia and beyond. When you visit, be sure to say hello.
The Chiles family, including Ruth & Henry, Cynthia, Sarah, Huff & Judy, Lizzy, Ally & Henry, continues a remarkable record of commitment to the community…and look forward to serving it for generations to come.
---
Travel the Trails
Whether you're an out-of-town visitor or a local looking for things to do, the Monticello Artisan Trail Network will help you navigate a unique adventure: exploring the byways & back roads, visiting craft artisan studios, agri-artisan gardens & farms, wineries & breweries, galleries & craft venues, local businesses & eclectic shops, and historical & cultural points of interest.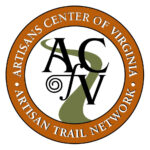 Explore Jefferson's passions, and find yours. Thomas Jefferson left his mark on the arts, architecture, education, and especially on the wines of Central Virginia. Inspired by his contribution to the growth of the modern American wine industry, the Jefferson Heritage Trail honors his legacy while creating an exciting journey for all who visit.