Wine and food are a pair as old as time. Each is better with the other—especially when you intentionally choose what's on your plate and in your glass. In fact, wine enhances the dining experience by elevating different foods' unique qualities and flavors.
Summertime means the year's richest bounty of seasonal produce. It also means long, warm days perfect for savoring refreshing wines in an al fresco dining setting. Our varied selection of Virginia wines and seasonal foods offers plenty of unique paths to take when crafting your own summer wine pairings.
A Note on Wine Tastings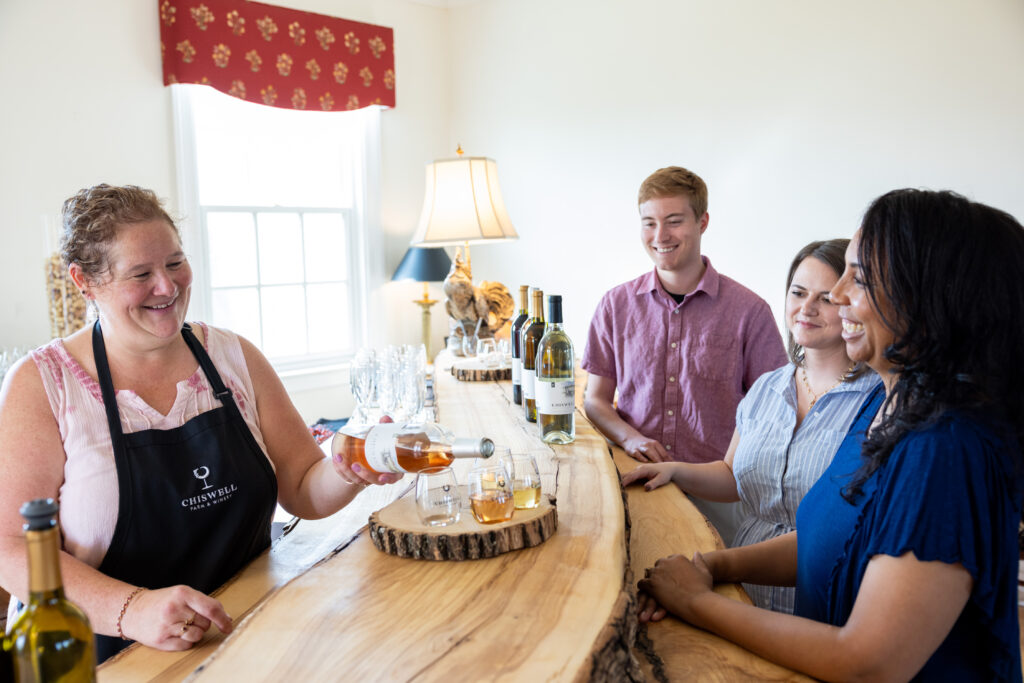 Before we talk about specific summer wine pairings, it's important to address the tasting experience. Many guests may feel an initial sense of trepidation when exploring the complex world of wine. If this sounds familiar, have no fear: our welcoming staff is eager to answer your questions. We hope the tips below will address your questions and help spark your culinary creativity.
The first step in developing a sharper palate is understanding common tasting terms. When tasting and describing wine, keep these things in mind.
Acidity is the degree to which a particular wine tastes sharp and crisp.
Body describes a wine's flavor profile, from the first hint of a sip to the strength of the aftertaste.
Dry means that a wine consists of nearly no sugars.
Tannins create the bitter and astringent qualities of wine, typically in younger reds, that make your mouth feel dry after tasting.
Pairing is more of an art than an exact science, especially because everyone's individual palate is different. When recommending which Chiswell wine matches best with specific foods, there are a few things we consider…
Flavor. When choosing wine and food, you want the flavors to either complement or contrast one another. A complementary pairing could mean choosing similar flavors, like the fruitiness of rosé with fresh-picked strawberries. Contrasting flavors are a bit more complex. For example, dessert wines like petit manseng taste wonderful with spicy flavors. This is because the sweetness of the wine cuts the food's palatable burn.
Balance. Neither the wine nor the food should overpower the other. An adequate balance of strong and subtle flavors will ensure that the two work together to create one wonderful experience, rather than flooding your palate with overwhelming sensations.
Mouth feel. This element is particularly important because it encapsulates the physical components of the dining experience. Consider how the wine sits on the inside of your mouth after tasting, and whether that aftertaste will match well with certain foods.
Our Culinary Creations
With our family's extensive experience farming Virginia land, it's no surprise that we try to utilize all of Mother Nature's offerings in our food menu. In fact, many of our dishes highlight the season's freshest flavors with ready-picked produce from our sister venue, Chiles Peach Orchard.
One of the best ways to experience the fruits of Virginia farmland is with one of our shareable boards. Items on each board change frequently to make the most of seasonal availability. The Estate Board is a crowd pleaser because there's plenty of food to go around, plus something to pair with every wine on the menu!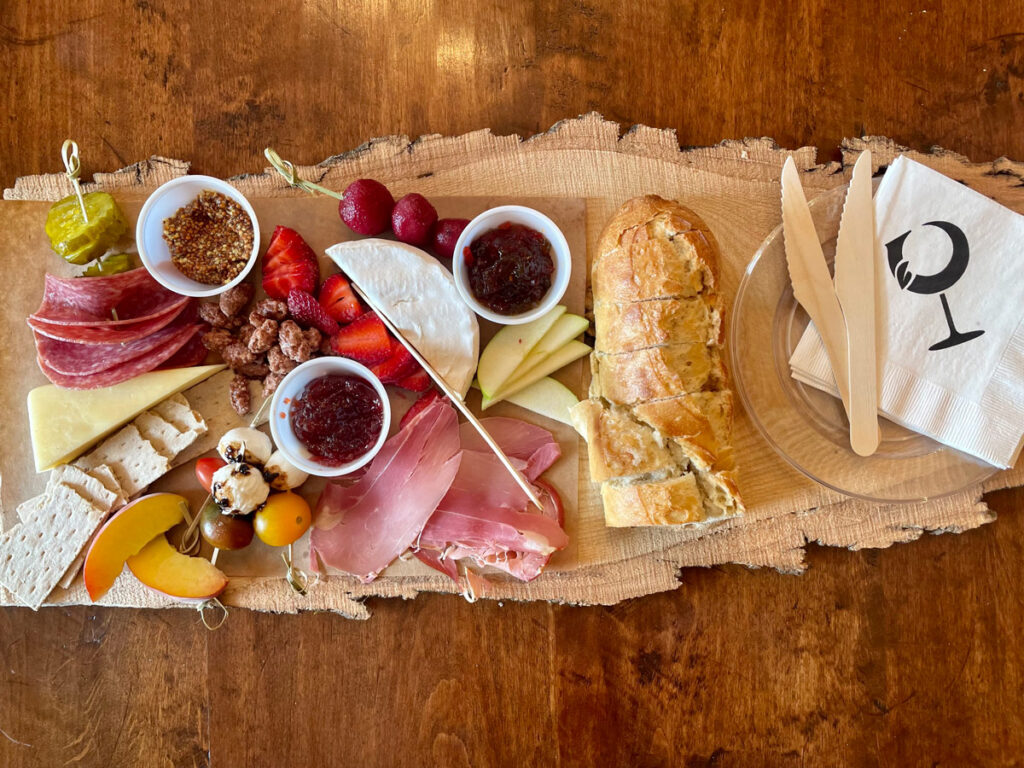 Sauvignon Blanc Pairings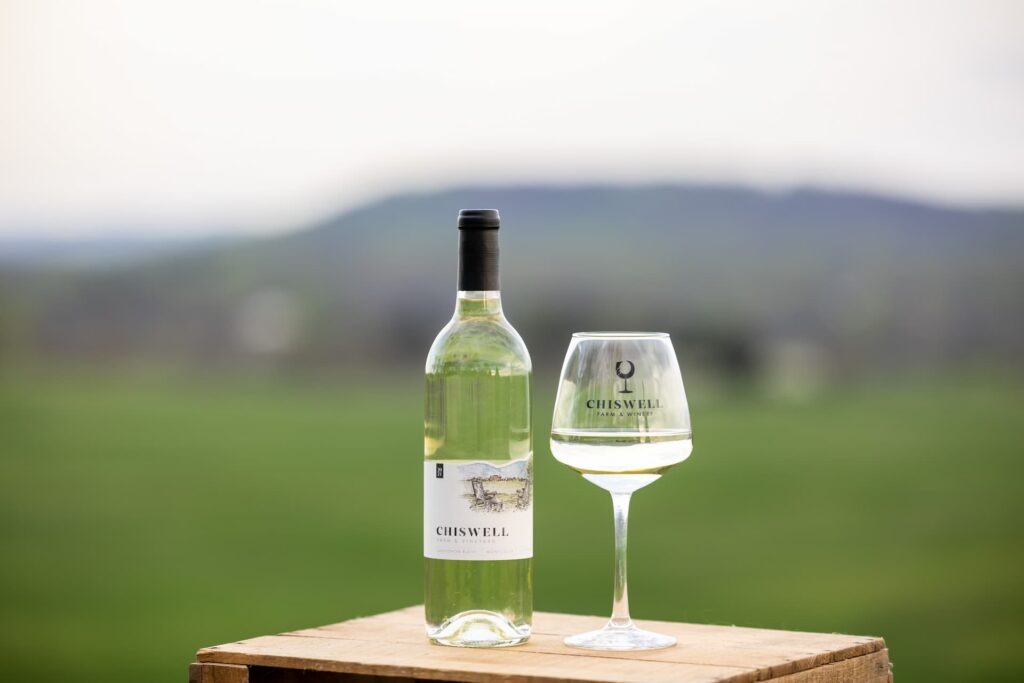 As our lightest wine on the menu, sauvignon blanc is a quintessential summer favorite. This white balances aromatic qualities and strong acidity, letting it stand up to strong flavors.
Thanks to that acidity, our vibrant sauvignon blanc elegantly cuts the taste of fatty cheeses and strong meats—particularly those in our pimento cheese appetizer and Greenwood panini. The aromatic qualities also pair with vinegar-based dishes—including our fresh cucumber salad.
Rosé Pairings
Our cabernet-sauvignon-based rosé is an ideal summer wine, with its notes of white peach, grapefruit, and strawberry. Its light, lively, and aromatic qualities create a similar profile to the sauvignon blanc.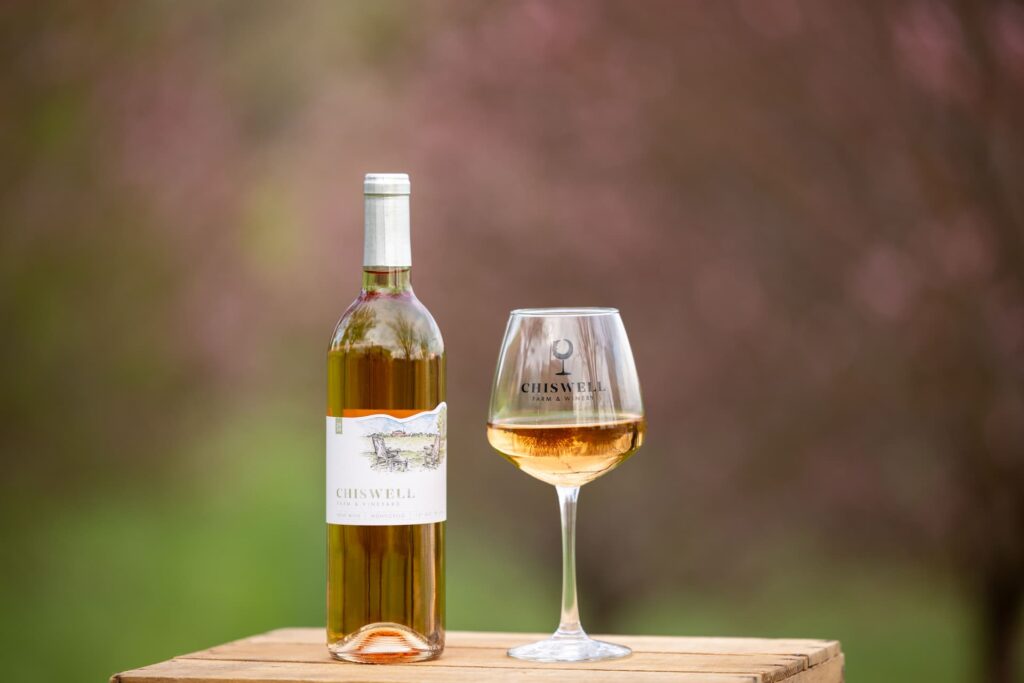 One rule of thumb is that chicken-based dishes are classic matches for rosé. For a southern twist on this timeless pair, enjoy this rosy wine with our housemade chicken salad.
The fresh cucumber salad is another delightful match. The zucchini, picked fresh from Chiles Peach Orchard every morning, is marinated with white wine vinegar, honey, fresh basil, and other herbs. The light basil notes harmonize particularly well with the rosé!
Chardonnay Pairings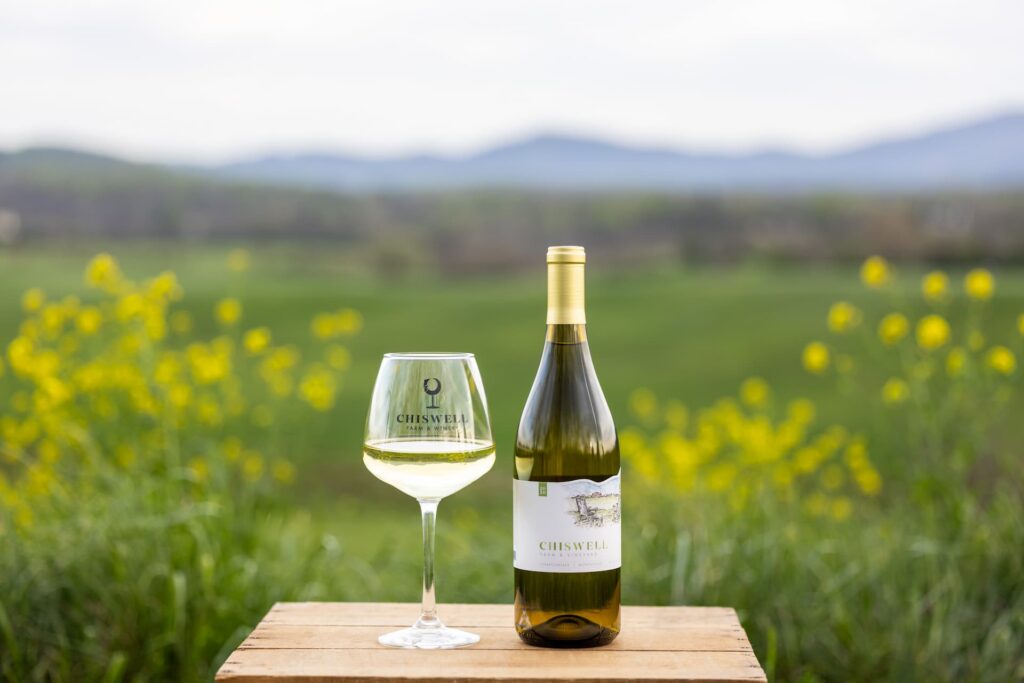 Our medium-bodied chardonnay features the crisp and savory flavors of chardonnay grapes, which our family grows on the tallest point on Carter's Mountain.
In the name of balance, the strong flavors in this white make it the ideal accompaniment for lighter fare. Try the chardonnay with our Parkway panini —featuring housemade pimento cheese and tomato—to bring out the savory flavors in both your food and wine!
Sparkling Wine Pairings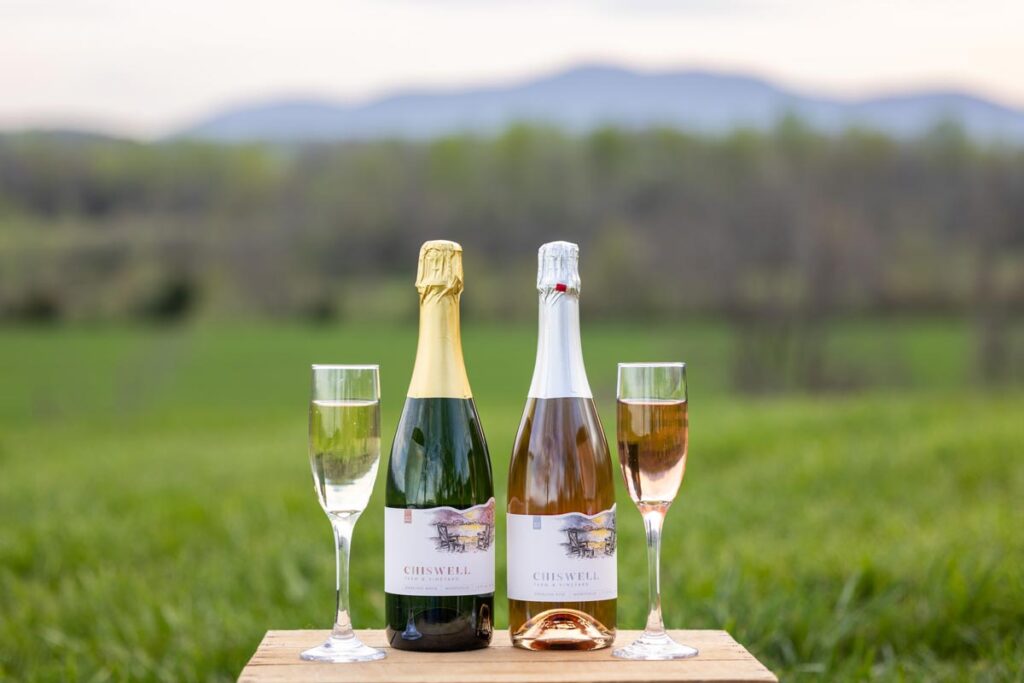 Our sparkling chardonnay and rosé carry bright flavor profiles, making them a delightful addition to nearly any meal. The dryness inspired by forced carbonation makes them easy refreshments for a day in the Virginia sun!
When choosing between sparkling chardonnay and rosé, note that the chardonnay is slightly brighter than the rosé. It features tasting notes of stone fruit and citrus, while the rosé's profile more closely resembles tart berries.
The strong acidity in each of our sparkling wines stands up to strong flavors. For summer wine pairings, think brie, pimento cheese, and cured meats like prosciutto or salami. Conversely, those looking for lighter food options can pair their bubbly with fresh mozzarella or vegetables.
Specialty Drinks
Try one of our specialty drinks—made with your choice of sparkling wine—while your food is being prepared! Each Sunday, we serve refreshing mimosas and bellinis, which are both wonderful palate cleansers before your meal. During the summer months, our seasonal peach bellini is made with freshly pureed peaches from Chiles Peach Orchard!
Sundown Spritz Pairings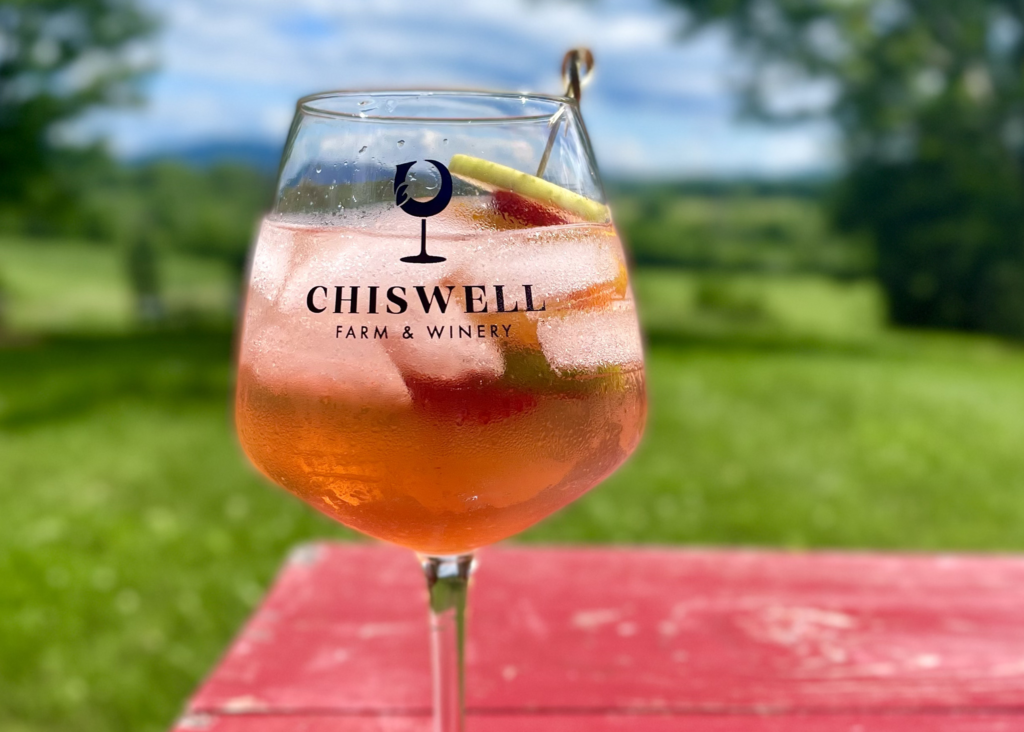 Our summer specialty drink, the Sundown Spritz, is made with our rosé, fresh fruit from Chiles Peach Orchard, a dash of sugar, and club soda. This refreshing beverage is a bit on the sweeter side, which means that any salty accompaniment is wonderful.
Try this wine cocktail with pimento cheese, chips, and cured meats!
Summer Sundown
Watch the summer sun paint the sky at our weekly Summer Sundown! Each Friday, we stay open 'til sunset so that guests can sip on refreshing Sundown Spritzes while enjoying acoustic music from local performers. It's an exemplary way to ease into the weekend!
---
We love welcoming guests to our estate to learn about summer wine pairings, experience them in a beautiful setting, and create memories with friends. As always, let one of our team members know if you want any suggestions for the perfect pairing. No matter your preference—red, white, rosé, you name it—we'll find a combination suited to your unique palate.