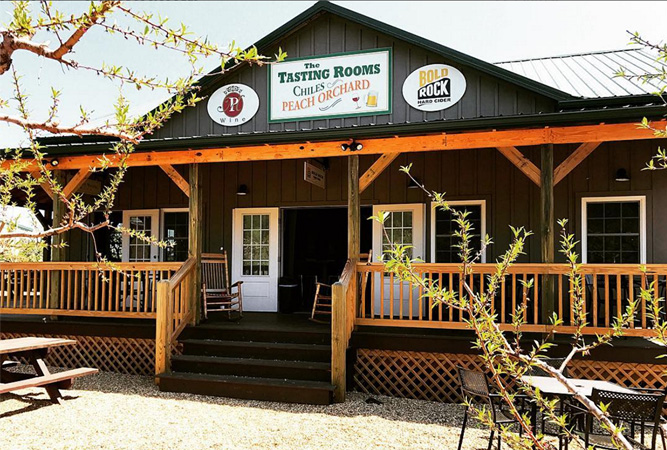 Drink in the fruits of our labor!
We're pleased to offer you a selection of exceptional local beverages—and the bonus—we grow much of the fruit used in these delicious drinks! Walk across our deck to The Tasting Rooms at Chiles Peach Orchard. Bold Rock Hard Cider and Prince Michel Winery each have a beautiful area for sampling and purchasing. They can't wait to tempt you with these refreshing beverages!
Bold Rock Tasting Room
Crushed and crafted in the Blue Ridge Mountains, Bold Rock Hard Cider is made from select local apples (many of them ours). With 8 ciders on tap (from sweet to dry), you can do a tasting, enjoy a flight or a pint of cider, fill your growler (bring your own, or purchase one here), or take home a 6-pack or case! Hours can vary through the season, but are generally 12N-6PM daily.
Prince Michel Tasting Room
Prince Michel has been a major player in the Virginia wine industry for many years. Producing sweet fruit wines to drier grape wines, there is something for everyone! The friendly staff is anxious to have you sample and choose your favorite. Enjoy a glass of wine while sitting on our deck, or purchase a bottle (or 3) to take home. Hours are 11A-6P Monday-Saturday, and 11A-5P on Sunday.
Chiles Peach Orchard is thrilled to partner with these fine local producers to bring you the best of Virginia, in one convenient location. Be sure to stop in when you visit us!