Back to Calendar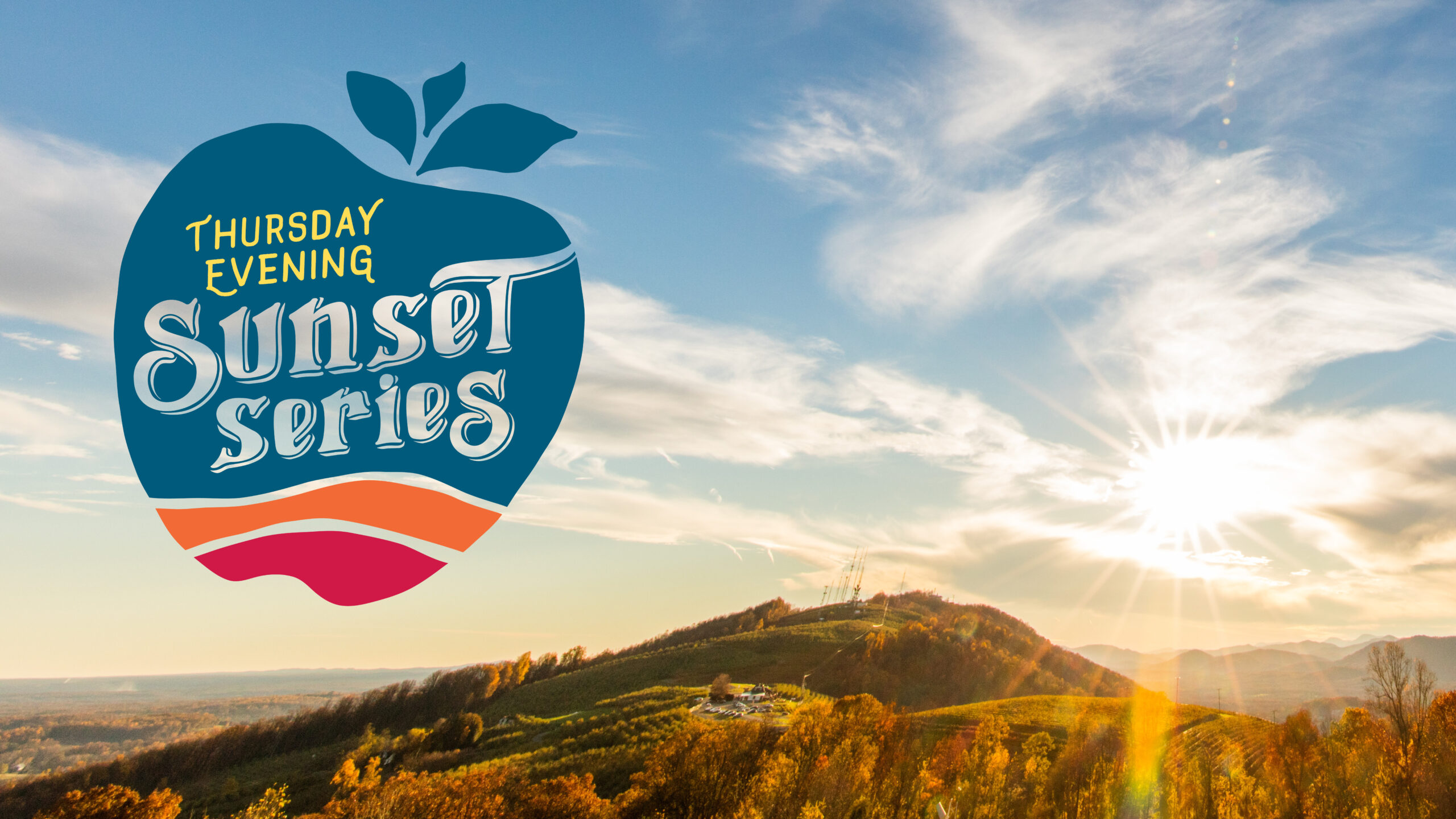 Thursday Evening Sunset Series (2020)
It's the high note of your week!
Join us for dinner, live music, and the best view of a sunset in Charlottesville! Bring lawn chairs and blankets, or come early for a picnic table on our terrace or decks. Social Distancing must be practiced at all times. Please wear a mask when inside our market, tap room, and restrooms.
Admission starts at 5PM
Dinner served 5:30-8:30 PM
Music from 6:00-8:30 PM (view lineup below)
No outside food or alcohol. NO DOGS PERMITTED.
Outside alcohol is not permitted by ABC Law, but the Bold Rock Tap Room will be open for adult beverages.
Our Mountain Grill will be open with delicious dinner selections. Our menu varies from week to week and offers choices such as pulled pork BBQ, chicken salad, hot dogs, and vegetarian options. For dessert, don't forget apple cider donuts and apple pie! Visit the Apple Barn for cider slushies, ice cream, and other snacks and treats.
Tickets
Due to COVID-19, we are limiting the number of folks attending our events this year; tickets must be purchased in advance. We will not be able to permit un-ticketed guests at these events. NO REFUNDS, unless Carter Mountain cancels the event.
---
2020 "TESS" Musical Lineup
---
7/9 – Jon Spear Band
Original tunes that are "straight blues, blues with a Latin flair, rockabilly, slow-burnin' R&B, or somewhere in between." jonspearband.com
---
---
7/23 – Local Vocals
Wide variety of traditional classic acoustic rock. localvocalstrio.com CANCELLED DUE TO WEATHER

---
7/30 – Mercy Trail
Classic hits covers. facebook.com/mercytrailmusic CANCELLED DUE TO WEATHER
---
8/6 – The Unsuitables
High-energy cover band with an emphasis on Motown, Funk, and Blues. facebook.com/dancemusic4u

---
8/13 – FarAway Band
Beautiful harmonies over a folk and pop rock sound. farawaysongs.com

---
8/20 –Mercy Trail
Classic hits covers. facebook.com/mercytrailmusic
---
---
9/3 – The Jackwagons (SOLD OUT – no tickets available)
Based out of Richmond, Eddy & The JackWagons are ascending the ranks of local talent and capturing the ears of music lovers, both young and old. Offering a blend of well-crafted originals along with their cool twist on fan-favorites, you will find yourself keeping the beat and singing along! https://www.thejackwagons.com
---
9/10 – Root Cellar Remedy (SOLD OUT – no tickets available)
Classic and modern rock combined with blues and folk. facebook.com/therootcellarremedy
---
9/17 – South Canal Street (SOLD OUT – no tickets available) CANCEL DUE TO RAIN
Hits from the late '50s through '70s. southcanalstreetband.com

---