When you visit the mountain, you can count on our Mountain Grill to serve up a delicious lunch, dinner, or snack. The service is friendly, the food seasonal and tasty, and the atmosphere can't be beat!
Mountain Grill Hours
Tuesday–Friday
11am–3pm
Saturday–Sunday
11am–4pm
The Mountain Grill is also open from 5–8pm on Wednesdays and Thursdays during admission-based events.
Specials
C'mon out for special plated themed meals each weekday! The themed daily meal includes sides featuring fresh produce grown by Chiles Family Orchards and other local ingredients. Watch as the seasonal varieties of vegetables, peaches, nectarines, and apples unfold.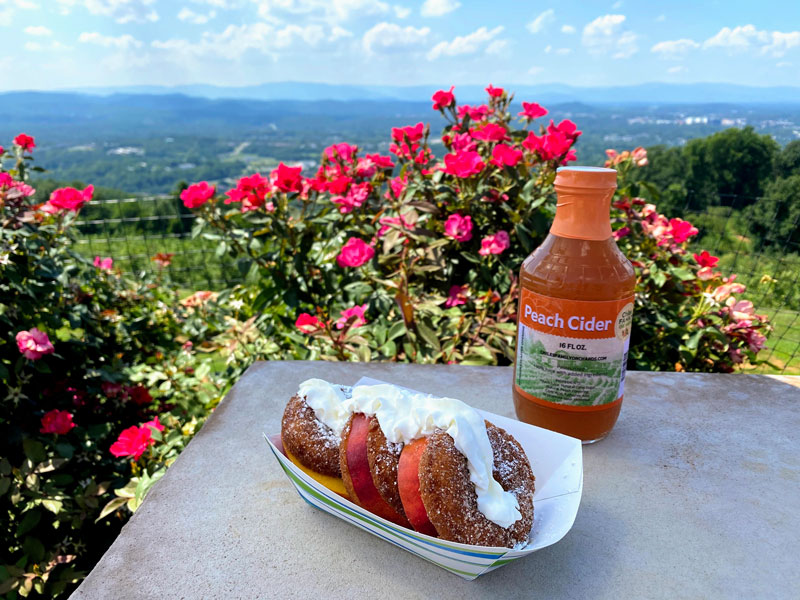 NEW Peach Sliders
A summer signature treat featuring three of our famous cider donuts with a thick slice of ripe, sweet homegrown peaches nestled inside, dusted with powdered sugar, and topped with a dollop of whipped cream.
Fresh Food in a Safe, Outdoor Environment
Enjoy our orchard-to-table menu on sanitized, appropriately spaced picnic tables overlooking the best views of Charlottesville and the surrounding mountains. Order online for the fastest turn-around times or place your order onsite at the Mountain Grill window.
We are observing all the current guidelines set forth by the Commonwealth of Virginia and Albemarle County. Please be prepared by bringing your mask, your good sense of social distance, and your cooperative spirit of safe health standards. We provide a traditional outdoor eating and visiting experience for household families and groups of 10 or less.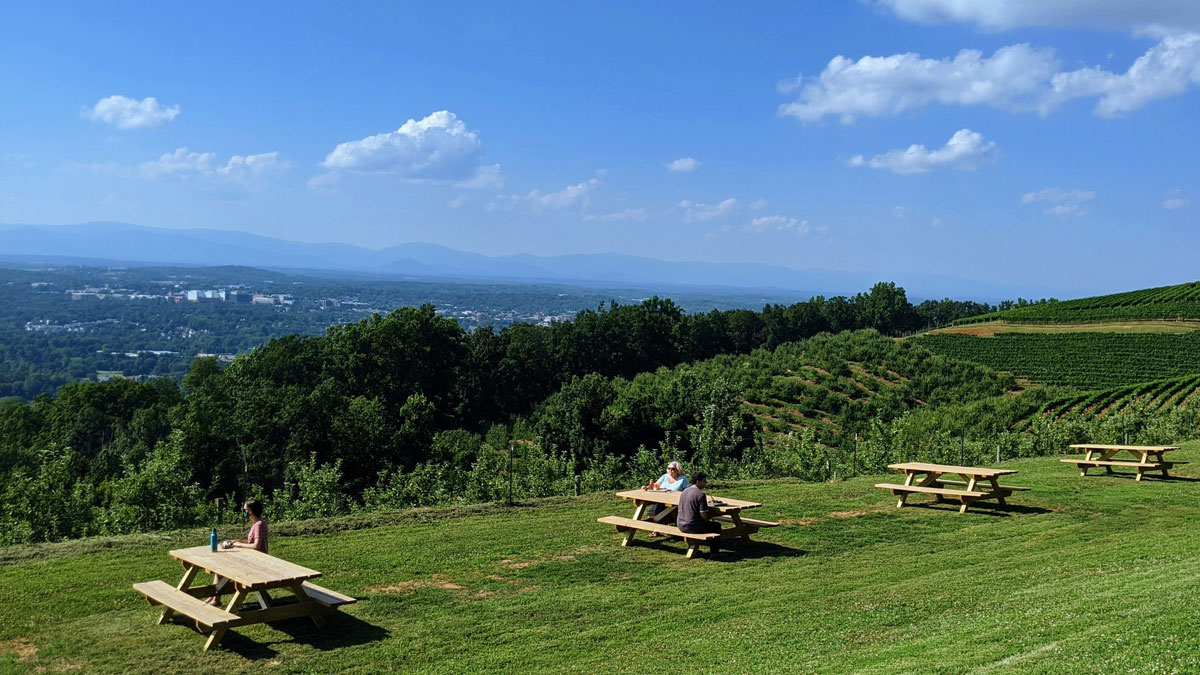 Al-a-carte menu
The Mountain Grill's simply delicious Americana menu features our Chiles Family Orchards fruits and vegetables in season, local ingredients, and weekly specials.
We offer vegetarian options and are happy to help our guests satisfy their dietary needs.
Hot Grill Menu
House recipe dry rubbed and slow-roasted pulled pork on brioche bun
Cheeseburgers and hamburgers featuring Food for Thought local Albemarle beef on brioche bun
All-beef hot dogs on toasted roll
Beyond Meat bratwurst on potato roll
Extra-long, skin-on, seasoned potato fries
Warm, salted Bavarian pretzel
Fresh Cool Menu
House-made chicken salad with pita chip dippers*
House-made pimento cheese with pita chip dippers*
House-made hummus with pita chip dippers*
Fresh veggies with ranch dip (or chef's choice dip of the day) featuring seasonal vegetables grown at our sister orchard, Chiles Peach Orchard
Fresh garden salad, option to add grilled chicken
Cucumber nectarine salad featuring cucumbers and nectarines grown by Chiles Family Orchards
Fruit salad cup
Fresh tomato pie featuring Farmer Henry's tomatoes
Crozet garden gazpacho
* Also available as a sandwich on a brioche bun.
---