Back to Calendar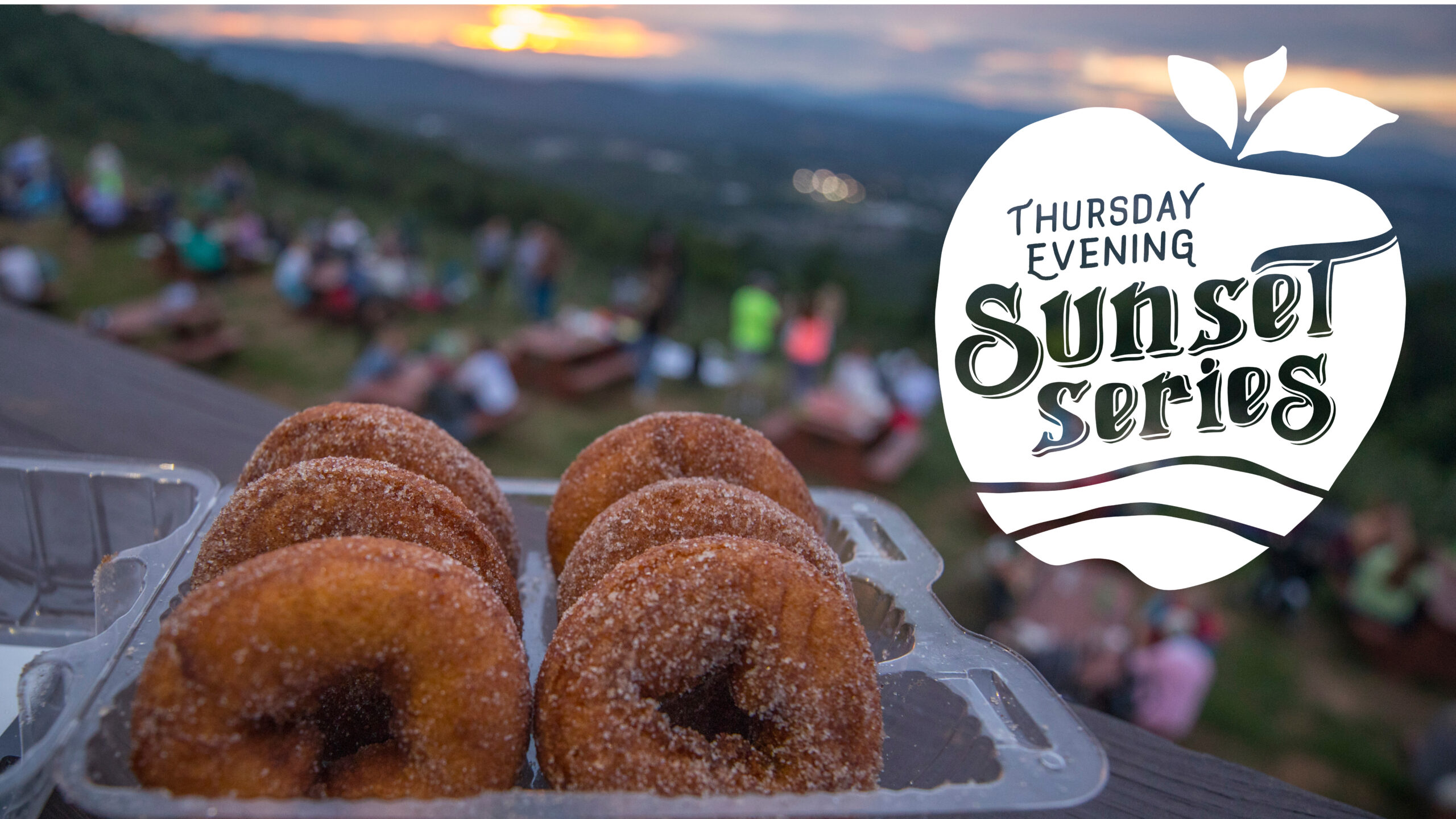 Thursday Evening Sunset Series (2019)
It's the high note of your week!
One of our favorite traditions on Carter Mountain is our Thursday Evening Sunset Series! Each Thursday from mid-May through the end of September, we stay open 'til 9pm. Join us for dinner, live music, hayrides, and the best view of a sunset anywhere! It's free admission! Bring lawn chairs and blankets, or come early for a picnic table.
Dinner served 5:30-8:30 PM
Music from 6:00-8:30 PM (view lineup below)
Our Mountain Grill is open Thursday evenings with delicious dinner selections. Our menu varies from week to week and offers choices such as pulled pork BBQ, salads, wraps, fruit and cheese plates, hot dogs, fries, and of course our apple cider donuts and apple pie. Visit the Apple Barn for cider slushies, ice cream, and other snacks and treats.
Outside alcohol is not permitted by ABC Law, but no worries, plenty of Prince Michel wine and Bold Rock hard cider available!
---
2019 "TESS" Musical Lineup
May 2 – Lock Jaw – classic rock and blues by orthodontists in Hawaiian shirts
May 9 – Unsuitables – music to dance to; motown, funk, blues
May 16 – Erin & The Wildfire – melting pot of rock, soul, & funk
May 23 – Jon Spear Band – rock/blues band
May 30 – Local Vocals – traditional classic acoustic rock to modern selections of unplugged pop and rock
June 6 – Matt Johnson – featured on NBC's The Voice; vocalist who does covers and originals
June 13 – Bro Patrol – high energy, cover songs, trio
June 20 – FarAway Songs – wide range of covers: classic rock-90's hits, also songwriters themselves with a Folk/Pop style
June 27 – Local Vocals – traditional classic acoustic rock to modern selections of unplugged pop and rock
*July 4* – 3-6pm: Lock Jaw – classic rock and blues; 6-9pm: John Marshall Mays Band – variety of classic rock, southern rock, soul, blues
July 11 – Mojo Pie – Lively duo with upbeat covers of 50's & 60's songs
July 18 – Jon Spear Band – rock/blues band
July 25 – FarAway Songs – wide range of covers: classic rock-90's hits, also songwriters themselves with a Folk/Pop style
Aug 1 – A University of Whales – blend lush orchestration with rock songs
Aug 8 – FarAway Songs – wide range of covers: classic rock-90's hits, also songwriters themselves with a Folk/Pop style
Aug 15 – Brother Oliver – brother duo, psychedelic folk-rock
Aug 22 – Matt Johnson – CANCELLED DUE TO WEATHER
Aug 29 – Oh Wow Boy – acoustic trio with upbeat covers of 50's & 60's songs as well as their own songs
Sept 5 – Jon Spear Band – rock/blues band
Sept 12 – Lock Jaw – classic rock and blues
Sept 19 – Unsuitables – music to dance to; motown, funk, blues
Sept 26 – Eddy & The JackWagons -well-crafted originals and fun twists on fan favorites/ rock classics