Strawberry picking season is here!
We're so excited to see the bold red berries brightening up our fields. Rediscover the taste of fresh strawberries by picking your own at the orchard!
Limited quantities are available at the start of the season, so visit our PYO page for daily updates.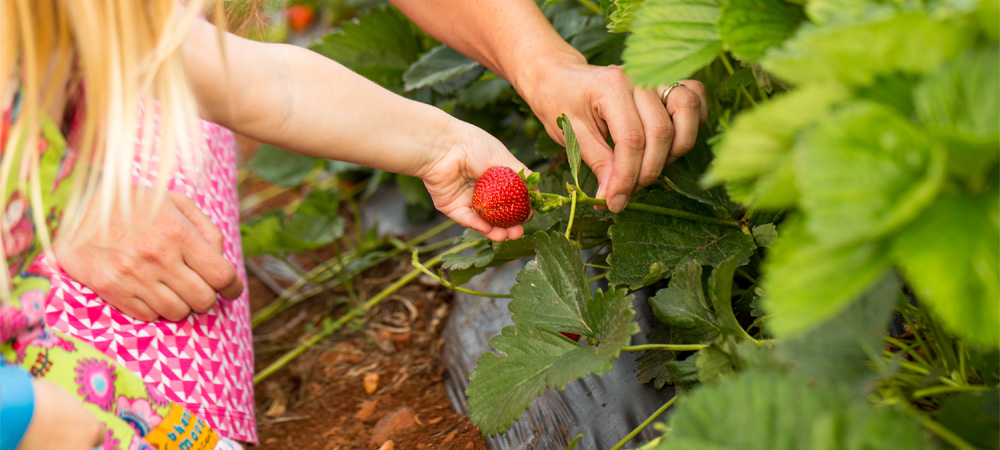 Berry Delicious Recipes
Our favorite thing about strawberries? We can enjoy them in so many different delicious ways! Try out one of these recipes with your fresh-picked strawberries, or enjoy the berries with a dollop of whipped cream.
Southern Living has a tasty Strawberry-Lemonade Jam recipe to take us straight from spring to summer! Enjoy this sweet and tart jam on your favorite breakfast pastry to start the day.
Looking for a twist on a classic recipe? Edible Blue Ridge's recipe for Gingery Strawberry-Rhubarb Crisp with Brown Sugar Pecan Topping will do the trick!
Don't have a sweet tooth? Have no fear, Savor Virginia's Strawberry and Goat Cheese Salad lets strawberries shine without the need for dessert. Try it for dinner with grilled shrimp or chicken for some added protein.
Last Season's Favorites
It was great seeing so many smiling faces—even when covered in masks—last year. We can't wait to welcome you to the orchard for more sweet memories this year!