Sweet and hearty, pumpkin soup is a flavorful start to a harvest meal or a full meal all on its own. Mix it up in the kitchen with these different takes on pumpkin soup.
Fresh Versus Canned Pumpkin Puree
For more information on pumpkin puree, including color, taste, and texture comparisons for fresh and canned, read this Fresh Versus Canned Pumpkins article from Handle the Heat.
Pumpkin Soup Recipes
Whether you like it sweet or spicy, vegan or brimming with meat, there's a pumpkin soup recipe that's perfect for you.
Soup Toppers
Don't forget a festive and flavorful final touch!
Finish pumpkin soups with a cool, creamy swirl of crème fraîche, sour cream, coconut milk, or even chipotle cream. The contrast of the white swirl against the soup's deep orange color is beautiful as well as delicious.
For added texture, try crunchy toppings. Roasted pumpkin seeds, also called pepitas, are a natural tie-in. Maple bacon bits add a meaty, salty component: plus, who doesn't love bacon? We also love the idea of this chili cran-apple relish or parmesan croutons.
Garnish with ingredients from the recipe to help show people what's in the soup. Blend roasted apples, carrots, leeks, or mushrooms into the soup for added depth of flavor and then top the mixture with finely cut slivers of whichever vegetable you used. If you added herbs to the soup—rosemary, chives, and sage pair particularly well with pumpkin—chop and sprinkle some on top.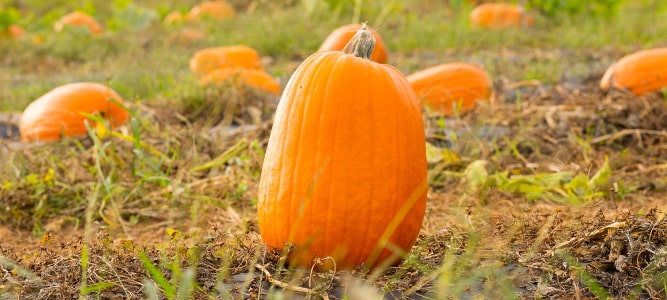 Can't get enough pumpkins? Learn more about pumpkins and pumpkin picking at Chiles on our Pumpkins FAQs.