As a farming family, we love showcasing the rich flavor of our juicy peaches in unique ways, including this peach daiquiri recipe! From the foothills of the Blue Ridge Mountains at Chiles Peach Orchard to our sky-high perch atop Carter Mountain, we know the nuances of growing (and enjoying) summer's favorite fruit.
Few things compare to enjoying a sun-ripened peach at the peak of picking season, especially in a frozen peach daiquiri. At its core, a daiquiri is a cocktail with rum, sweetener, and citrus juice. Scale this easy peach daiquiri recipe to fit your needs—it just takes five minutes, after all!
Ingredients
Servings: 4-5 daiquiris
4 cups of fresh peaches, peeled
3 limes, juiced
8 ounces white rum
3 cups ice
3 Tbsp honey
Mint to garnish
Adding fresh peaches allows the fruit to shine, much more so than your run-of-the-mill frozen or canned varieties, which can be loaded with preservatives and extra sugar. Of course, if you want to enjoy this recipe later, you can freeze your local pickings for up to a few months.
When picking up your fresh-picked peaches, remember to stop by our Country Store & Bakery for all your entertaining necessities, too! In fact, we used our very own pitchers, reusable silicone straws, and peachy tea towels to make this recipe video.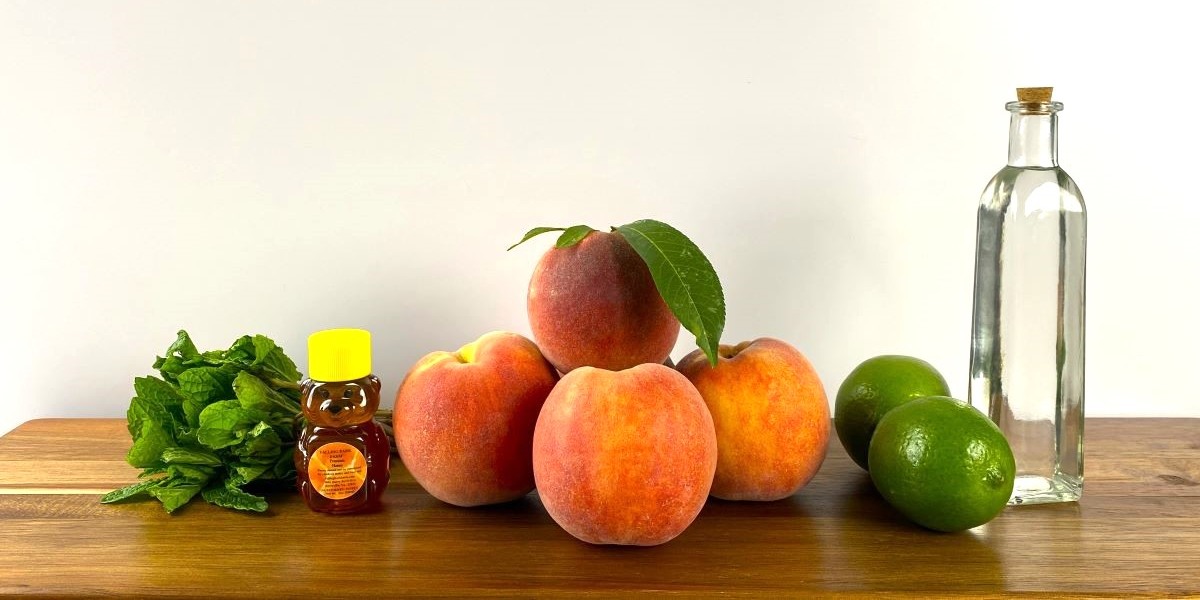 Instructions
1. Prepare your ingredients
First, peel, pit, and chop your peaches to make sure everything will blend evenly. Our tips for cooking with peaches will help you peel them in a jiffy,
Second, juice the limes and measure 8 ounces of rum, 3 cups of ice, and 1 tablespoon of honey.
The key to this peach daiquiri recipe is testing and adjusting to your taste buds. Ripe, juicy peaches are very sweet. Consider trying a sip of your daiquiri before adding the honey!
2. Add ingredients to a blender
Start with freshly picked peaches, followed by rum, lime juice, ice, and honey.
If you're looking for locally-sourced honey, we're big fans of Falling Bark Farms from our Country Store & Bakery!
3. Blend
Blend your mixture for about 30 seconds or until smooth. The ideal daiquiri should have a smooth texture that coats the palate without being overly thick or watery. This allows the bright, zingy flavors of your fresh peaches to star in every sip.
If your mixture is a tad too thick, add some water or extra rum. If it's too thin, add more ice.
4. Serve
When it comes time to serve up your peach daiquiris, you have plenty of options for glassware. While traditionally served in a hurricane glass, we're happy with a few trusty mason jars. To garnish, add a sprig of mint. You can add a slice of peach or lime to the rim of your glass, too!
5. Enjoy!
Now it's time to enjoy the fruits of your labor. Of course, remember to drink responsibly! This recipe makes five servings, making it perfect for sharing with friends and family.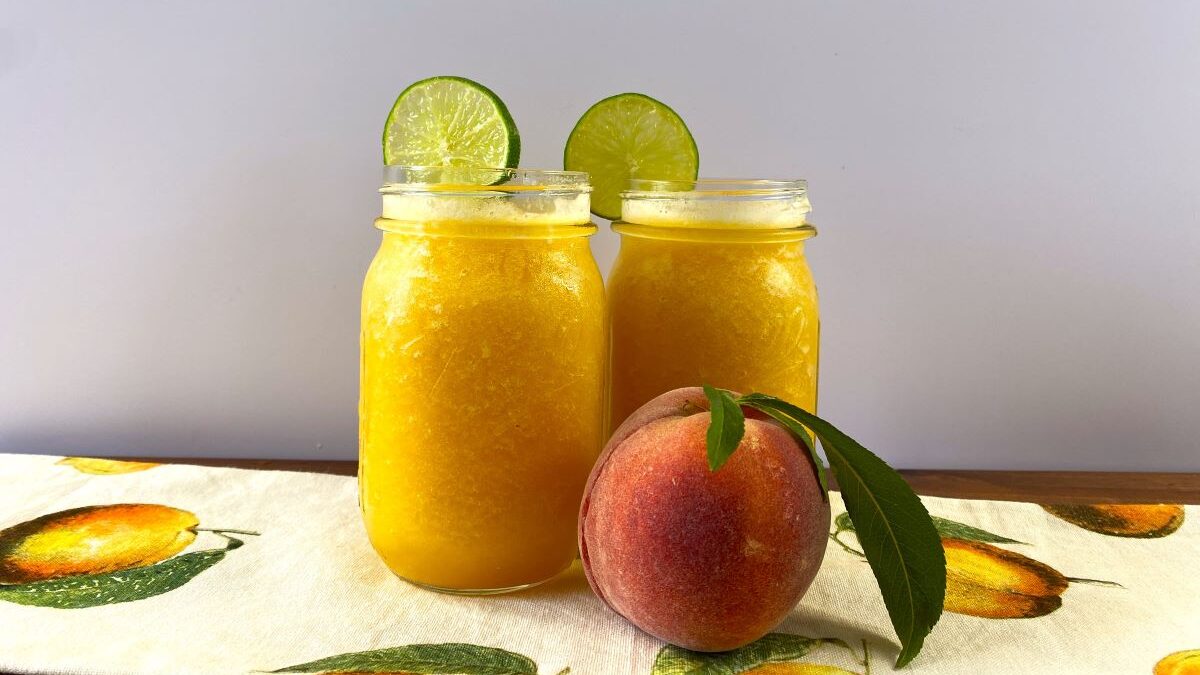 Excited to make this peach daiquiri recipe yourself? See today's peach availability.
---
Peach Daiquiri Recipe Variations
There are plenty of ways to make this recipe your own, so don't be afraid to get creative in the kitchen! To turn this peach daiquiri recipe into a mocktail, simply substitute 1 cup of orange juice for the white rum.
When experimenting with different fruits, we've got a few suggestions!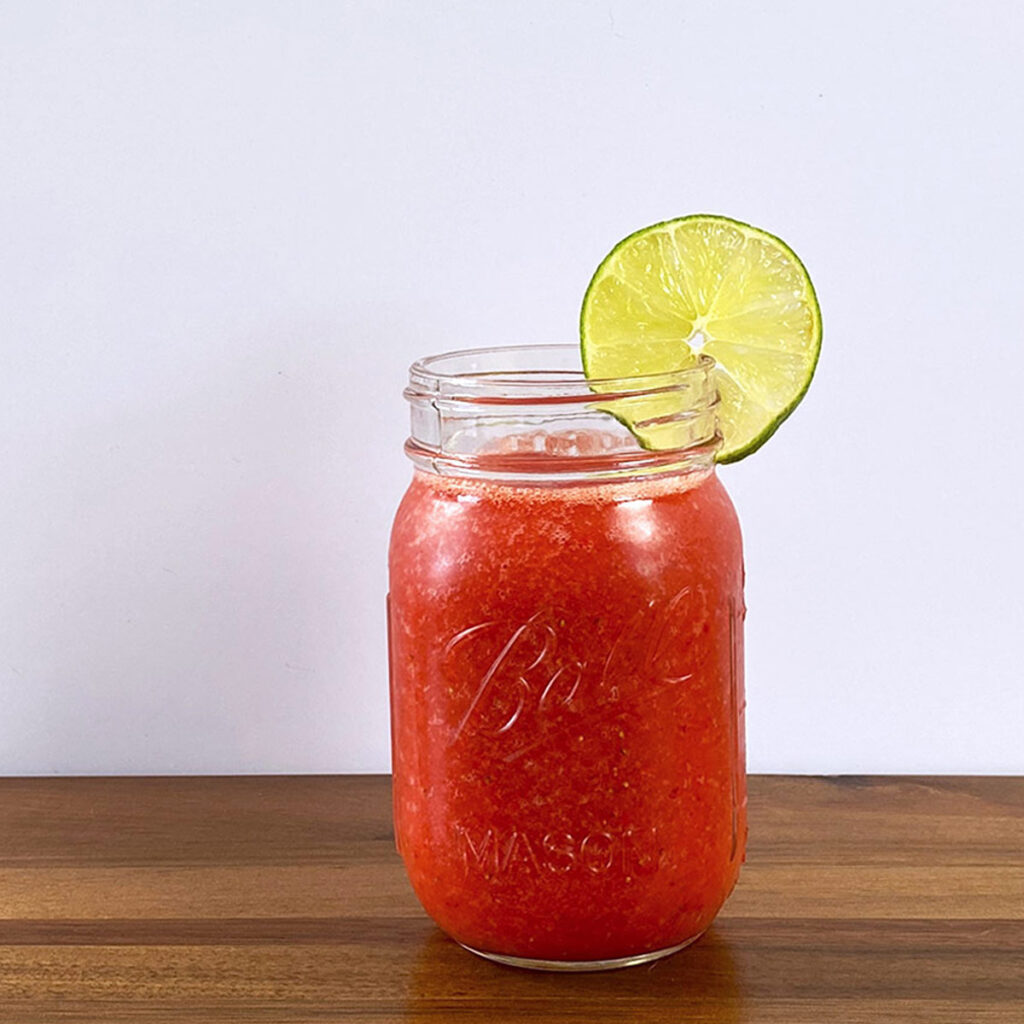 #1 Strawberry Daiquiri
For this springtime variation, switch out peaches for strawberries. Sip this sweet strawberry daiquiri as early as April, when the first pick-your-own strawberries often ripen at Chiles Peach Orchard!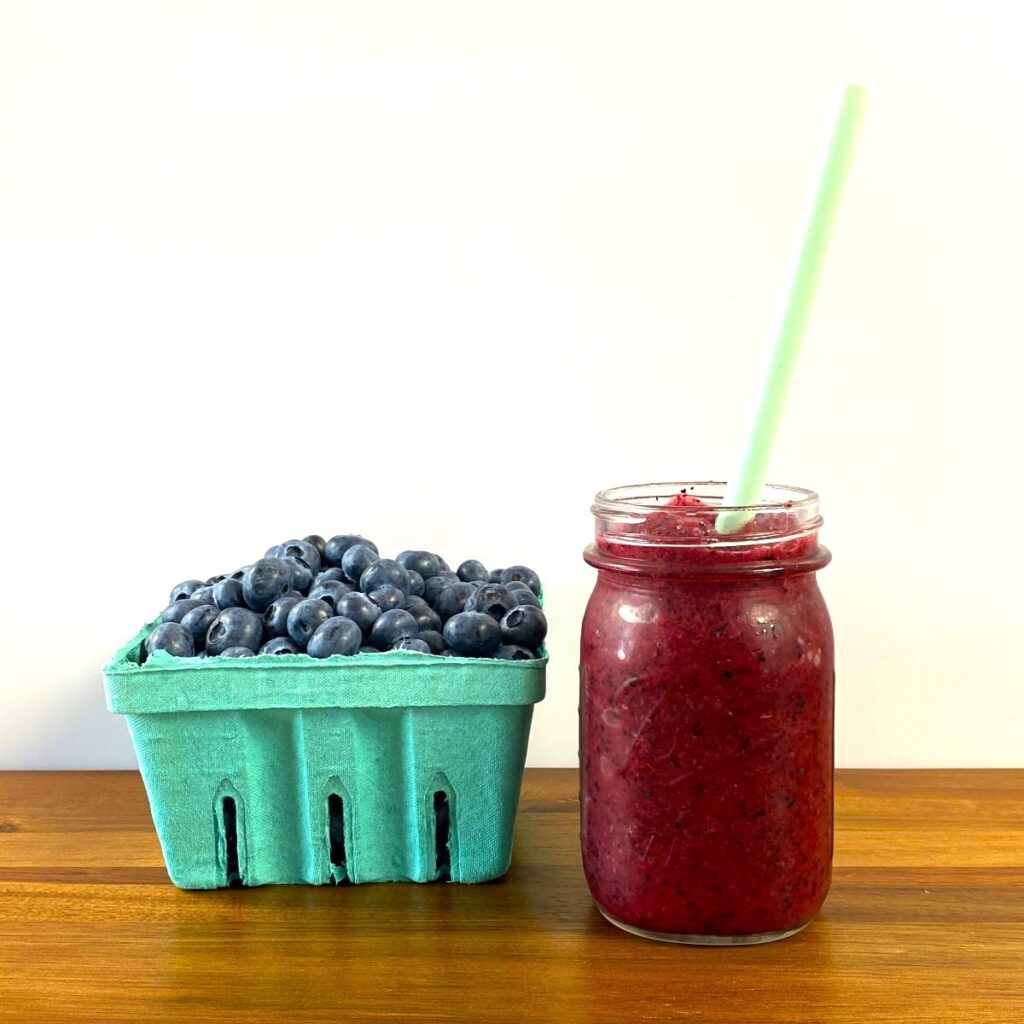 #2 Blueberry Daiquiri
Simply substitute four cups of blueberries for your peaches to make this recipe a reality!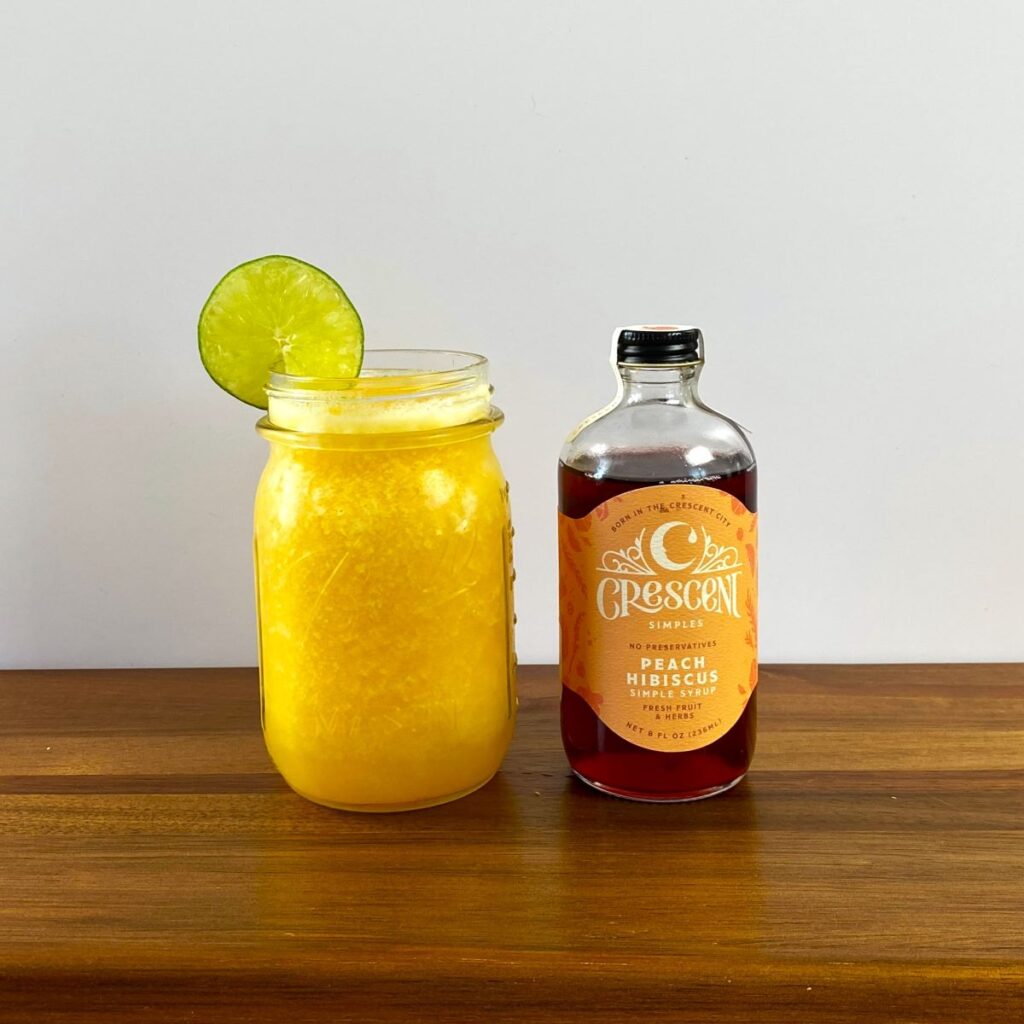 #3 Crescent Simples Daiquiri
Add an ounce (or more, if you'd like) of Crescent Simples peach hibiscus simple syrup for a floral spin on our original recipe! Made with our very own sun-ripened peaches, you can find this syrup in our Country Store & Bakery.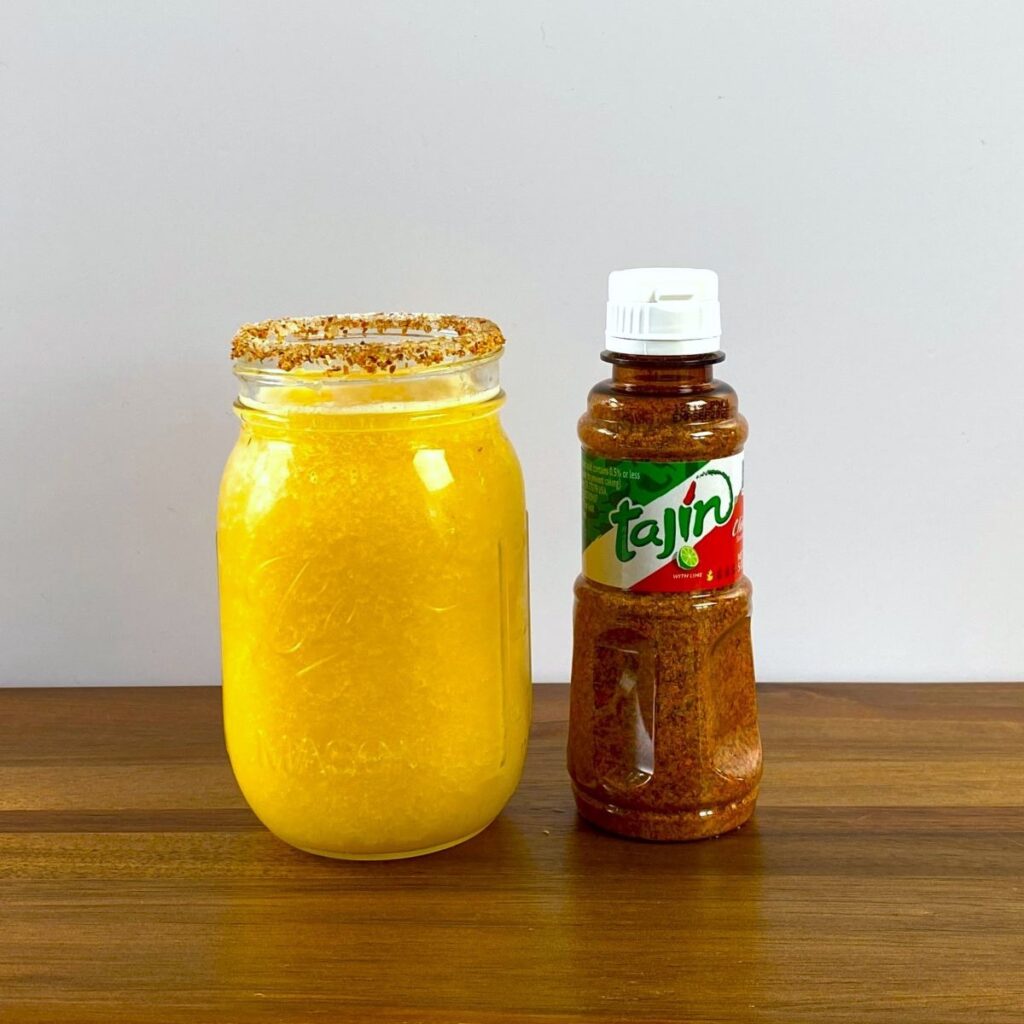 #4 Chili Lime Rim Daiquiri
Add a sugar and chili lime spice rim (we like Tajin) to the glass of your peach daiquiri to bring some extra kick.
---
Mix your favorite variations together to create your very own daiquiri experience! It's sure to be as delicious as it is gorgeous. Snag a photo and tag us on Instagram (@cartermountain)!