In true Southern summer fashion, it was a gorgeous and very hot morning for the Chiles Pancake 5K Race—a fundraiser benefiting Western Albemarle Rescue Squad—on Saturday, September 10. The heat didn't impact the festive atmosphere, great turnout from community, and stellar participation of 119 runners—our best year yet!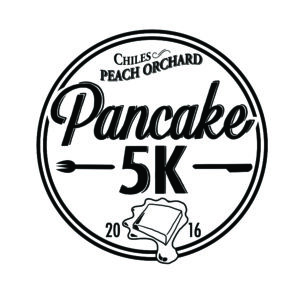 Ben Sutphen claimed first place overall (time: 19:14.9) and Bridget Donaldson was the first-place female finisher (time: 21:18.9). For the 12 years old and under crowd, Ronan MacDonald finished first, with a time of 22:13.9. Jim Bell took first place within the over 70 group with 25:15.1. Congratulations to this year's winners! For the full race results, click here.
This event would not have been possible without the army of community volunteers who helped with registration, parking, timing runners, and other critical tasks. Thank you, volunteers!
Thank you sponsors!
Day-of support for runners:
Items donated for silent auction from:
Update: February 2017
The 2016 Chiles Peach Orchard Pancake 5K attracted 120 runners and raised over $2,300. Chiles Peach Orchard store manager Lisa Henson presented a check for $2,371 to Western Albemarle Rescue Squad president Bill Wood on January 6. Read more about the race in the Crozet Gazette.