We know countless ways to enjoy strawberries: covering them with chocolate, adding them to a garden salad, and of course, all by themselves! One thing is for sure: a homemade dessert with just-picked strawberries makes any day a memorable occasion for the whole family.
While Mother Nature has the final say, strawberry picking usually begins in late April and continues through the middle of June. Visit Chiles Peach Orchard to pick the orchard-fresh berries you need to bake this Fresh Strawberry Pie at home!
Ingredients
For the crust
2 cups flour
2 tsp sugar
1/2 tsp salt
2/3 cup shortening
5 tbsp milk
2 tbsp vodka
For the filling
6 cups Chiles Peach Orchard strawberries
3/4 cup sugar
1 tbsp cornstarch
1 cup water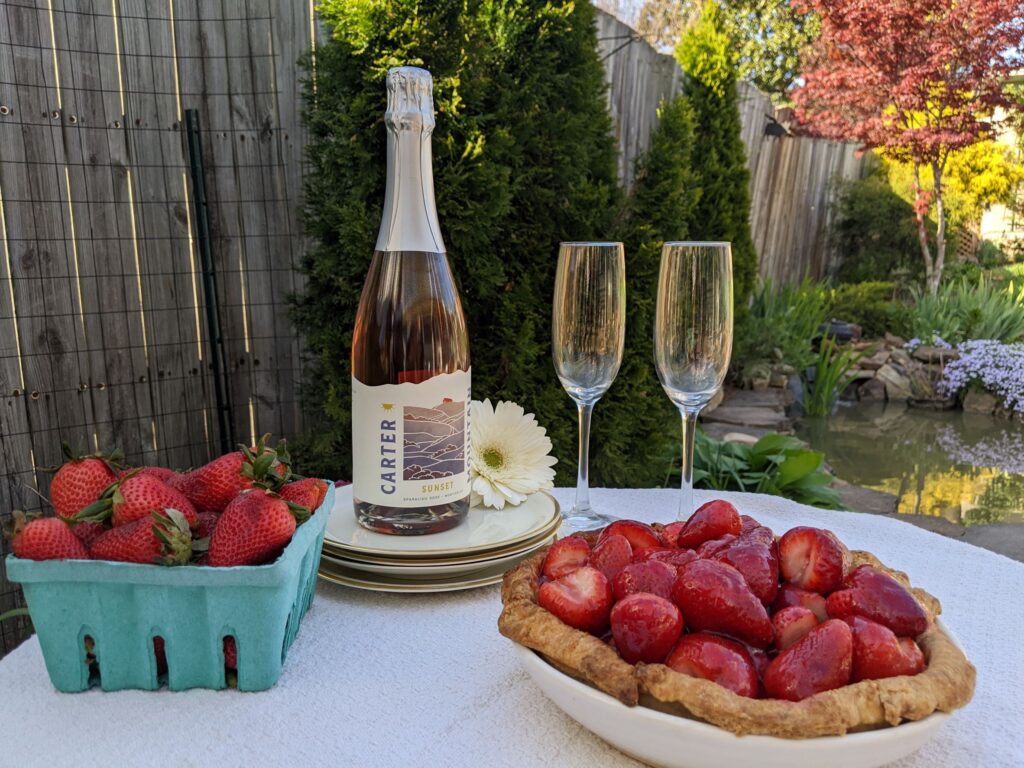 Instructions
1. Make the pie crust mixture.
Preheat oven to 425 degrees.
Gather your pie crust ingredients and a large mixing bowl. Add dry ingredients (flour, sugar, and salt). Cut in cold shortening with a fork and knife until crumbly. Add wet ingredients (vodka and milk). Mix.
2. Prepare and chill the pie crust.
Roll up your sleeves and get your hands a little messy.
Spill your pie crust mixture onto a lightly floured surface and form into a disk. Cover with plastic wrap or reusable Z wrap and refrigerate for one hour.
3. Form, chill, and bake the pie crust.
Get ready to start forming that beautiful pie crust.
Roll out your dough on a lightly floured surface until it is 1/8 in. thick. Grab your favorite Farm Market & Bakery pie plate and trim the dough to fit; we recommend cutting it to ½ in. beyond the edge of the plate.
Place the crust into the pie plate and flute the edges. Poke the base with a fork seven or eight times before refrigerating for 30 minutes. Bake for 20-25 minutes, or until the crust is gold and flaky.
4. Make the strawberry mixture.
We know it's tempting to munch on all those sweet strawberries while cooking. Try not to eat them all during the next two steps!
Mix cornstarch and water for later.
Remove the stems from one cup of your Chiles Peach Orchard strawberries and place in a small saucepan. Crush the berries, add one cup of water, and boil for three minutes. Add sugar, stir, and boil for three more minutes. Add cornstarch mixture, stir, and boil for three more minutes. Set aside to cool.
P.S. Make sure you pulled the pie crust out of the oven!
5. Add more fresh-picked strawberries.
We hope you picked enough strawberries because now is their time to shine!
Remove the stems from your remaining strawberries and place in a large mixing bowl. Mix in the cooled strawberry mixture until all the berries are covered in a glossy coating. Pour that all into your baked pie crust and, voila, you have a pie!
Want to add some pizzazz to your fresh strawberry pie? Dress it up with some fresh mint or a dollop of whipped cream.
6. Enjoy!
Now, all there's left to do is enjoy this delightful dish with family and friends! Tag us on Instagram at @chilespeachorchard and tell us what you think.