Hey there, Outsiders. You may have noticed some new language around the orchards and in our marketing. Here's the inside scoop on the "outsiders" campaign.
Get Out There and Enjoy the Great Outdoors
Get the "outside" scoop—sign up for the orchard newsletter!
From season to season, one thing remains the same—the orchards are blessed with spectacular views, homegrown fruit and fun, and sunshine for growing sweet memories with friends and family. Whether visiting the orchards to pick-your-own produce, enjoy an adult beverage on the deck, or celebrate at seasonal events, the air is fresh and the views are spectacular. The orchards are some of the best places around to kick back, relax, and enjoy the great outdoors.
Our family of farmers, team members, and visitors are more than just outdoorsy people—we're outsiders!
Become an Outsider
Who is an outsider? An outsider delights in exploring outdoors and relishes experiences that are out of the ordinary. An outsider relaxes out and about rather than in front of the TV. An outsider thinks outside the box and stretches outside their comfort zone.
Want to get in with the outsiders? Score a bingo on the outsiders bingo card! (Click here for a printer-friendly PDF version of the bingo card)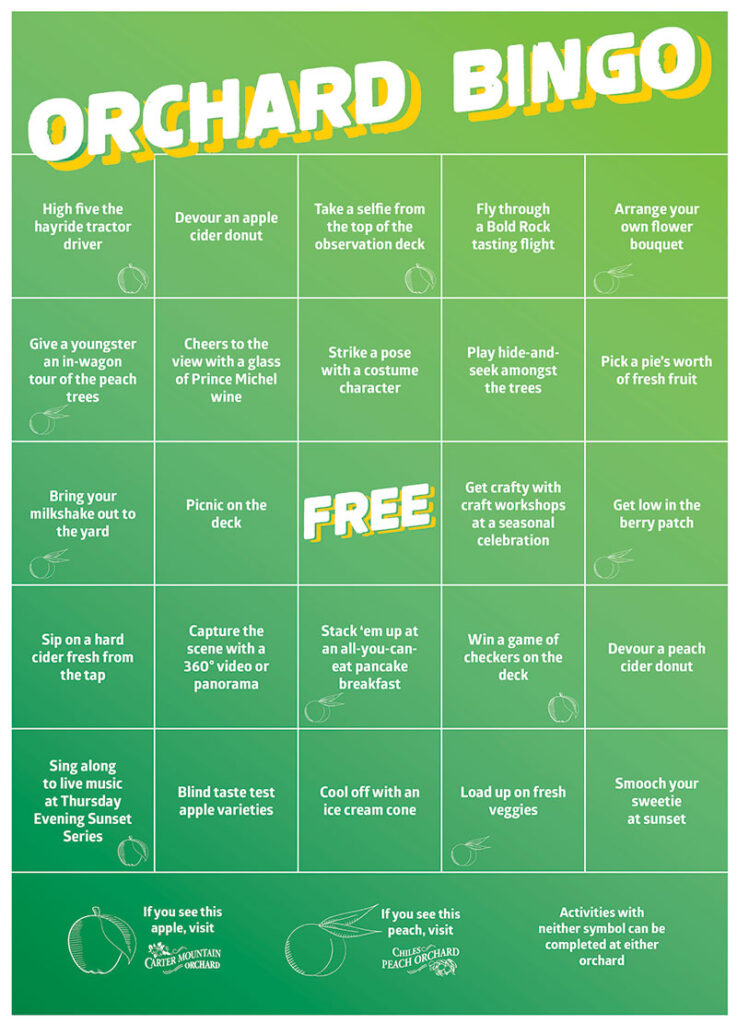 Outsiders are welcome here—c'mon out!