We've taken our famous apple cider donuts to the next level with this cider donut bread pudding. Easy to make and sinfully delicious, this recipe is perfect for satisfying the sweet tooth of any hungry crowd. Visit Carter Mountain Orchard for the apple cider donuts and apples you need to whip this recipe up at home.
Ingredients
For the bread pudding
12 Chiles Family Orchards apple cider donuts
2 apples (Granny Smith and Fuji work well)
4 eggs
1.5 cups whole milk
1.5 cups heavy cream
2 tsp vanilla
2 tsp cinnamon
4 tsp butter, cut into cubes (for topping)
sugar (for topping)
For the glaze
1/2 tsp vanilla
2 tbsp milk
1 cup powdered sugar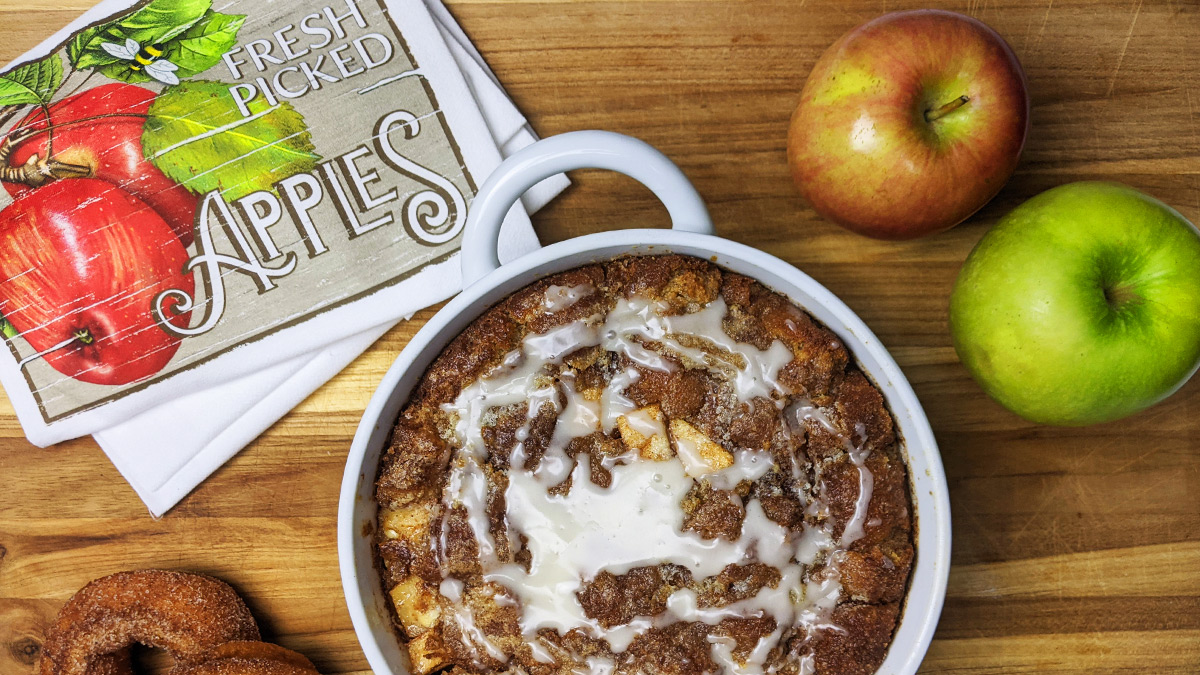 ---
Instructions
Preheat oven to 350 degrees.
1. Tear the cider donuts into bite-sized pieces.
If you've been looking for a way to use day-old donuts, this is it. Stale donuts soak up the wet ingredients better than fresh donuts, giving you a moist bread pudding.
When ripping up the donuts, aim for one-inch pieces.
2. Chop the apples into small pieces.
When baking with apples, choose a variety that will keep its structure. We recommend Granny Smith or Fuji for this recipe.
Peel and cut the apples into slightly smaller than bite-sized pieces.
Combine the donut and apple pieces in a large mixing bowl.
3. Mix the wet ingredients.
Whisk together the heavy cream, milk, cinnamon, vanilla, and eggs.
4. Prepare and fill the baking dish.
Choose a baking dish that leaves about an inch of space at the top. We like the look of a large, deep round dish but a 13×9 inch pan with high walls would also work.
Spray the baking dish with cooking spray.
Fill the prepared dish with the chopped apples and donuts. Slowly pour in the wet ingredients. Allow this mixture to soak for about 20 minutes.
5. Top with butter and sugar.
Just when you thought this dish couldn't get any more decadent, we bring butter and sugar to the party.
Cut the butter into small—about 1/4 inch works well—cubes and dots across the top. Then, evenly sprinkle over some cinnamon sugar.
6. Bake for 40-45 minutes.
In a 350 degree oven, bake the cider donut bread pudding until a tester comes out clean.
Baking time will vary by the size of your dish; for example, deeper containers may take longer to cook completely, so check your bread pudding often after the 35-minute mark.
7. Prepare the glaze.
This dish was never going to be healthy: embrace the indulgence by topping the bread pudding with a glaze.
While the bread pudding bakes, whisk up the glaze using vanilla, milk, and powdered sugar. Look for the perfect drizzling consistency: if the glaze looks a little thin, add more powdered sugar.
Try experimenting with different glaze flavors! Apple cider, maple syrup, and bourbon all make delicious additions.
8. Drizzle with glaze and serve.
Bread pudding is a dish best served warm. Top with the glaze, snap some pics for the Insta (tag us, we're @cartermountain!), and enjoy with family and friends.