The new outpost for Bold Rock Cidery is now open at Chiles Peach Orchard!
A Cider Garden Among the Peach Trees
Hard cider lovers have been enjoying the delicious convenience of the Bold Rock Hard Cider Cellar at Chiles since the tasting room opened the first weekend of June. The Cellar is now open daily 11AM – 6PM and features 8 award winning hard ciders on tap as well as tasting flights, pints, merchandise and cider to go.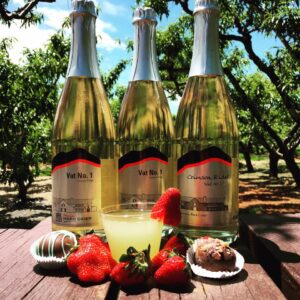 The friendly and informative Bold Rock staff are looking forward to introducing new customers to their hard ciders and cementing the longstanding bond customers have already established with Bold Rock beverages. The Cellar has 8 ciders on tap and offers tasting flights for those looking to experience a number of different styles at once. Already loyal to one special cider? Go right ahead and enjoy your favorite cider by the pint, fill a growler, or grab a case to bring home.
The Cellar also offers fun SWAG items for sale, including T-shirts, bike jerseys, pint glasses, growlers and a myriad of other items.
A Cellar Crafted for Crozet
"Bold Rock is a locally owned hard cider producer and the Cellar at Chiles Peach Orchard is just one more way that we can become closer to the community that has been so supportive since we started back in 2012."
For Bold Rock, it's all about local. The great proximity to the growing Crozet and Western Albemarle community as well as the "tree to bottle" experience that they've enjoyed at the Tap Room at Carter Mountain Orchard was one of the motivations behind opening The Cellar at Chiles. "It really hits home for the consumer when we can explain that we source our apples from locations just like this orchard to craft our award winning hard ciders," says Lindsay Dorrier, Director of Retail Sales for Bold Rock. "In fact, the Chiles Family is one of our principle suppliers of fresh, high quality apples used to create our hard ciders and that relationship was also a leading reason why we have now launched this new retail experience."
The most important aspect of the retail experience? The Crozet community!
"This is community-focused," Lindsay told the Crozet Gazette. "It's for Crozet to be able to get to the cidery. We mean to engage with cyclists and runners. They can stop and get a refreshing cider. We'd like it to be an early-evening spot, so you don't have to hike to Charlottesville."
The Cellar is still a work in progress, with plans to build out the space over the summer with TVs and an indoor seating area. Other plans for the future include introducing regular music, programming, and activities for Cellar visitors and possibly expanding the daily hours on Fridays and Saturdays to accommodate the early evening crowd on the weekends.
Bold Rock looks forward to enhancing the already great Chiles Peach Orchard experience that you've come to know and love—cheers!
In the mood for wine? Visit the new Prince Michel tasting room just a few steps away from the Bold Rock Cellar!
About Bold Rock
With more than 75 awards to its name, Bold Rock Hard Cider can now be found throughout the Mid-Atlantic and Southeast. The new Cellar at Chiles supplements Bold Rock's already bustling Tap Rooms at Carter Mountain, the Cider Barn in Nellysford, VA and the Cidery & Tap Room in Mills River, NC.