Sweet or savory, baked apples are the perfect treat on a crisp fall day.
Ingredients
1 Tablespoon oil
2 Tablespoons butter
1 celery stalk, diced
1/4 cup finely diced onion
3/4 pound sausage
1 box stuffing mix or your favorite homemade stuffing
1 1/4 cup unsalted chicken broth, plus 3/4 cup for finishing
6-12 apples such as Granny Smith, Golden Delicious and Stayman
Makes six baked apples.
Instructions
Core the Apples
Start with the apples, preferably Granny Smith, Golden Delicious, or Stayman. These apple varieties are the best cooking apples and add beautiful color to the final dish. They are also larger in size, making them easier to fill with stuffing. For more bite, use Granny Smith and for a milder flavor once cooked, use Golden Delicious.
Slice the top of the apples off. Use a spoon or a melon baller to carefully scoop out the entire core of the apple. Repeat slice and scoop for every apple. Don't discard the apple cores—add them to the compost!
Spoon small pat of butter into each apple.
Place apples in a baking dish with high sides and set aside.
Make the Sausage Filling
Heat the oil in a medium or large skillet over medium heat. Add the onion and celery and cook until softened, about 2-3 minutes.
Add the sausage to the skillet and cook thoroughly, making sure to break the sausage into crumbles. Remove from heat.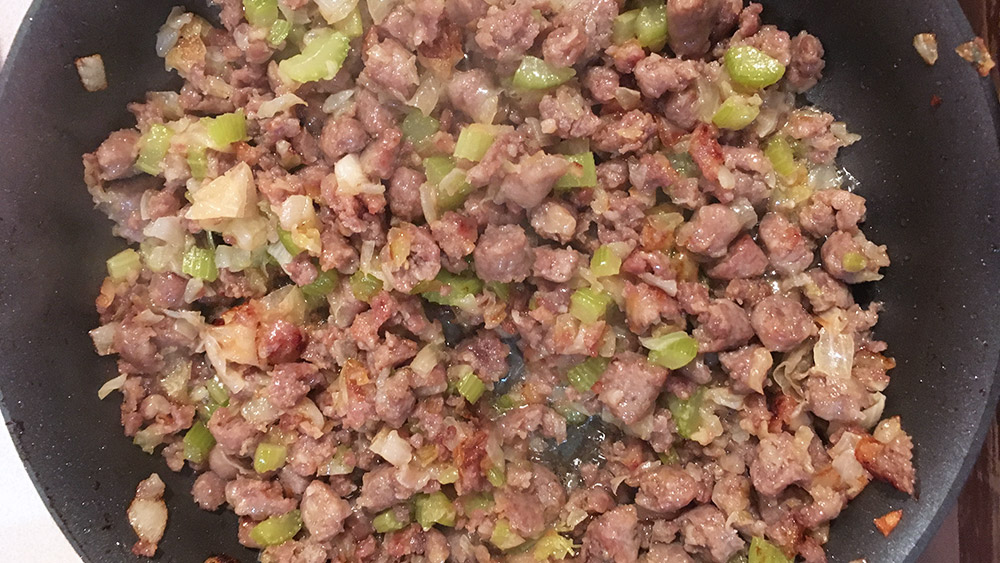 In a large bowl, add chicken broth in the same amount as water is called for in the stuffing mix instructions, about 1 1/4 cups of chicken broth. (We used Pepperidge Farm Country Cube Stuffing.)
Stir together bread stuffing and sausage mixture so that the stuffing is soft and moist. If the mixture appears dry, add more broth.
Spoon the sausage stuffing into the apples.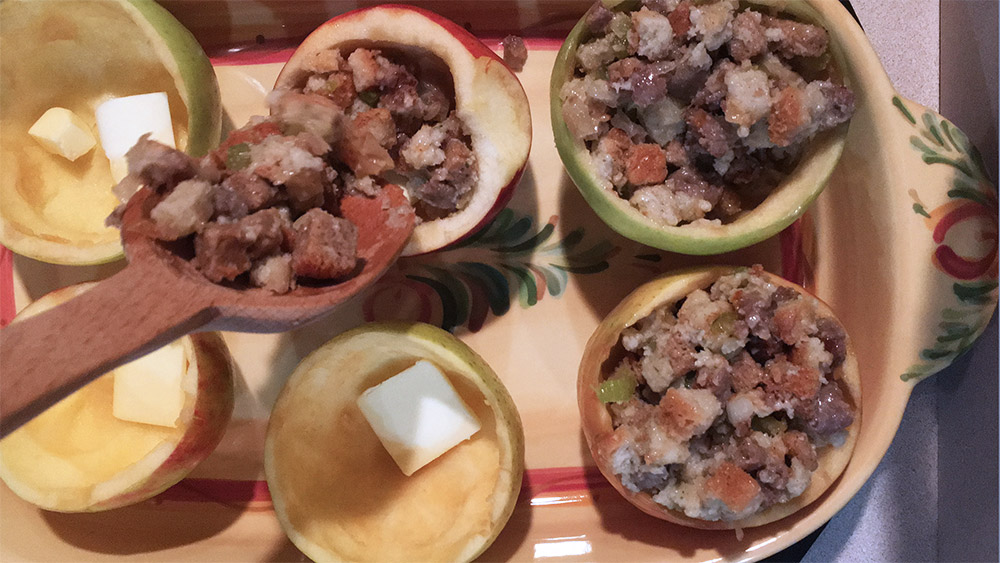 Add Broth and Bake Apples
Once all of the apples are stuffed and in the dish, carefully pour an additional 1/4-1/2 cup of broth over the apples. Add another 1/4 cup of broth to the bottom of the dish.
Bake uncovered at 350 degrees for about 30 minutes or until the apples are softened but not falling apart. If you don't want the stuffing to brown, cover the dish while baking.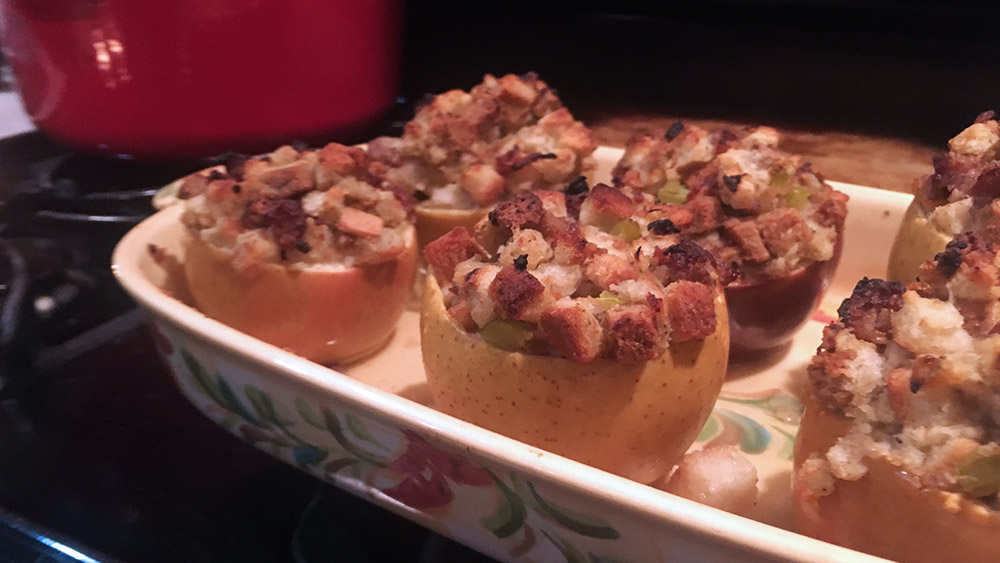 Enjoy
Serve baked apples warm. They are especially delicious when paired with apple cider and a simple green salad.
Can't wait to get outside and pick the perfect baking apples? Check pre-picked and pick-your-own apple availability at the orchards.