2022 was an apple-solute whirlwind! We welcomed visitors from down the road and across the country. Before we turn our attention to the next season, we want to linger on some of the year's highlights.
This Year's Pickings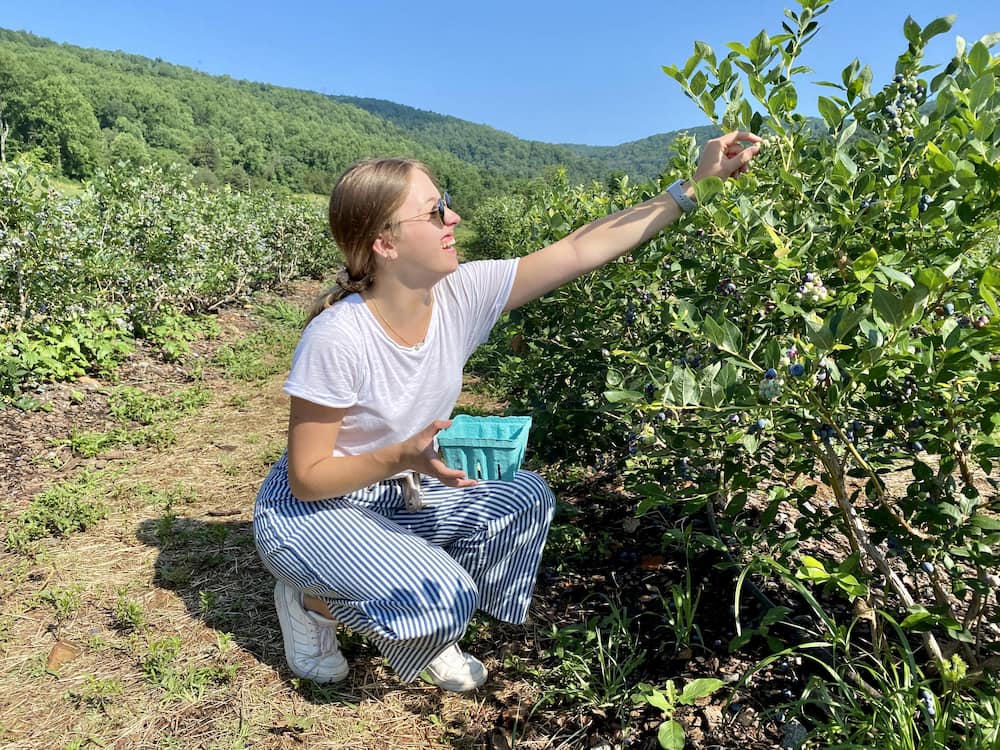 It was a fruitful year for pick-your-own. The season brought plentiful pickings for blueberries and apples, as well as sweet cherries at Spring Valley Orchard!
While early spring's cold and rainy weather played a little havoc with the strawberries and peaches, we had a beautiful season anyway. So many families came out, filling their baskets with Mother Nature's bounty and filling our days with smiles.
The blueberry and cherry crops were unbelievable! These fruits tend to bloom after peaches, so they were not affected as harshly by the early year weather.

Ally Chiles, 5th Generation Chiles Family Farmer
A New Space for Sweets and Sips
We kicked off the season with a big renovation, bringing many Chiles Peach Orchard favorites under one roof. Breaking down the interior wall in our wine shop space created a whole lot of space for the new Ice Cream & Wine Shop. It was wonderful to see folks come in and satisfy their flavor cravings with soft-serve ice cream, a glass of wine, and our newly-introduced seasonal lemonade slushies!
While our Ice Cream & Wine Shop will be hibernating for the winter, you can still enjoy our family's wine at other venues. For a mountaintop view with your glass, visit Carter Mountain's Country Store & Bakery. Or maybe you prefer to warm up by the fire while sipping your chosen vintage at Chiswell Farm & Winery!
Cherished Traditions
To jumpstart our series of annual events, we Hopped Into Spring. In this celebration of Easter, little ones were a gaggle of giggles while snuggling with bunnies, petting goats, and enjoying seasonal treats. We're especially grateful to local vendors Little Miss Fancy Plants and Fairy Floss Cotton Candy, as well as Far Away Band, for making the day extra special!
In the August heat, we had a fantastic time tasting the Crozet Lion Club's ice cream at our annual Homemade Peach Ice Cream Days. A special thanks to local musicians Max Mandu and Theocles, who kept our toes tapping all weekend long.
September brought our 10th Annual Fall Into Fun Festival, which featured live music from local musicians Mike D'Antoni and Max Mandu, pick-your-own apples, apple butter making, and the grand opening of our pumpkin patch. We're sure the festivities were one of the many reasons why the apple trees had such a stellar picking season!
If you missed out on our timeless traditions this year, keep an eye on our events calendar for updates as the 2023 season approaches.
Our Newest Traditions
Every tradition starts somewhere, and we kicked off a few of our own this year! During October, we hosted local musicians on weekends for live music. Apple picking is already a joy, and these talented performers brought a whole new level of energy to the season. We're excited to welcome many of them back to the orchard-side stage next year.
2022 also inaugurated a new holiday event: Cookies & Cocoa with Santa! We loved seeing kids enjoy hot chocolate, jumbo sugar cookie decorating, and storytime with Santa. Even though the Grinch snuck his way into the party, our Christmas spirit was enough to keep the day merry and bright! Mark your calendars: we'll continue this new tradition the second week of December 2023.
Giving Back
As a locally owned and operated business, we're always looking for ways to give back to our community. One of our favorite ways of doing so is by donating fresh-picked produce! This year, we donated five bushels of apples to local middle schools for snacks.
To continue our annual tradition of giving, we chose to donate this year's charity tips to the Western Albemarle Rescue Squad (WARS). Our customers and staff raised $4,773.50 to support this vital, all-volunteer organization that provides rescue and EMS service 24 hours a day to our region.
In May, we also had the opportunity to be a rest stop during the Inaugural Blue Ridge Ride to Defeat ALS. Participants enjoyed peach cider donuts and strawberries as the perfect pick-me-up during their ride!
Talk of the Town
We're always tickled to be recognized for our history and the experience we provide for our visitors. In "Our Century Farms," the Crozet Gazette explores the history of the two area farms which have been operating for more than a hundred years. It gives a lovely account of our story, which dates all the way back to 1912 when "two men planted a couple of peach orchards on modest tracts in Batesville and Crozet."
Meanwhile, Southern Living's "Springtime in Charlottesville" featured us in its What to do in Town and Nearby section. It calls out our "famous peach ice cream and fresh cider doughnuts," and how in the springtime the rows of fruit trees form must-see "tunnels of pink blooms."
---
We look forward to seeing you next year when the peach blossoms start blooming! For updates on our anticipated season opening in late March or early April of 2023, follow us on Facebook and Instagram.
As always, thank you to our customers for supporting our family farm and growing your traditions with us!
This year brought some challenges, with spring weather affecting the strawberry and peach crops. Overall, it was a year of highlights, thanks to our hardworking staff and the great support from our customers.

Cynthia Chiles, 4th Generation Chiles Family Farmer