Hours for Carter Mountain Orchard in Charlottesville, VA
We ask that you arrive at least one hour prior to our closing time if you wish to pick your own fruit (in season). Hours of operation can change due to extreme weather. If in doubt, please call us or check our Facebook or Twitter pages for the most updated information.
Please abide by our posted hours of operation—no trespassing before or after hours. Thank you!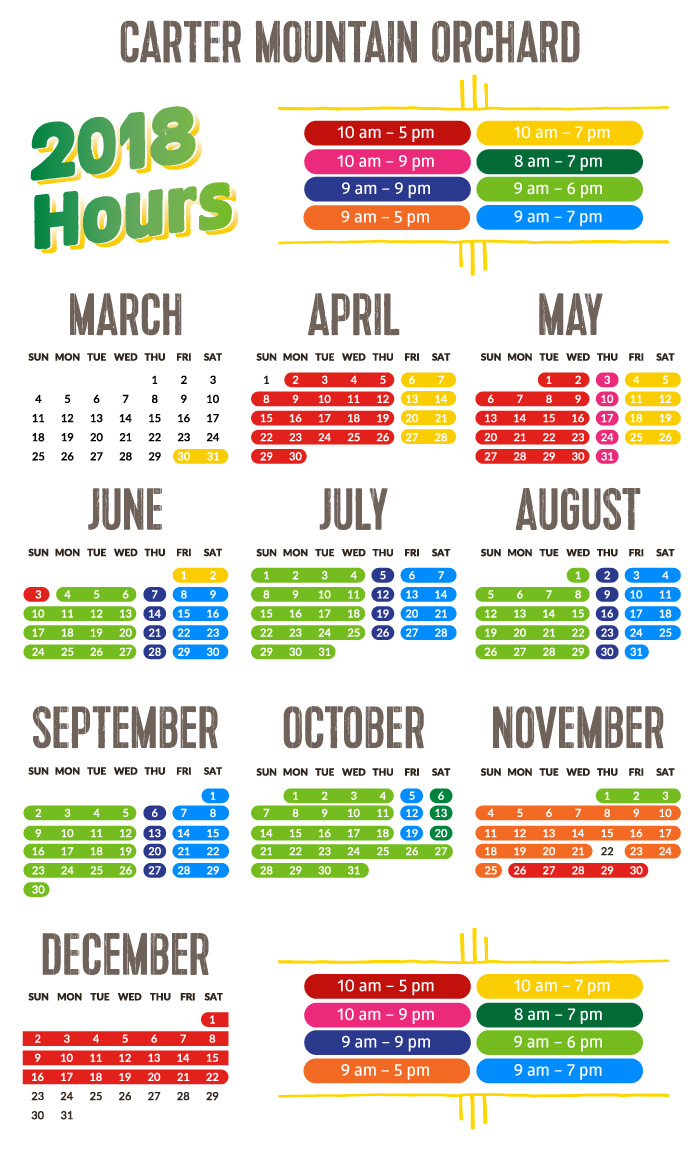 2018 Schedule
March 30 – April 28
Sunday through Thursday: 10AM-5PM
Friday & Saturday: 10AM-7PM
CLOSED Easter Sunday (4/1)
April 29 – June 3
Sunday through Wednesday: 10AM-5PM
Thursday: 10AM-9PM
Friday & Saturday: 10AM-7PM
June 4 – September 29
Sunday through Wednesday: 9AM-6PM
Thursday: 9AM-9PM
Friday & Saturday: 9AM-7PM
September 30 – November 3
Sunday through Thursday: 9AM-6PM
Friday & Saturday: 9AM-7PM (through 10/20)
Opening at 8AM on 10/6, 10/13, 10/20
November 4 – November 25
Daily 9AM-5PM
CLOSED Thanksgiving Day (11/22)
November 26 – December 22
Open Daily 10AM-5PM
---
Were you looking for the hours for Chiles Peach Orchard in Crozet? View the Crozet hours here.