Fun Facts & Useful Tips for Apples
We grow many popular varieties including Ginger Gold, Gala, Red Delicious, Golden Delicious, Jonagold, Jonathan, Rome, Stayman, Winesap, York, Granny Smith, Fuji and Pink Lady. Our apple harvest typically begins in late July and extends through mid-November.
An average of 8-10 million bushels of apples are produced each year in Virginia.
Virginia apples are destined for markets in 15 states and more than 20 countries.
75% of apples grown in Virginia are sold for processing and made into popular products such as applesauce, apple juice, apple butter, slices, and cider.
Local apple varieties require 90 to 175 growing days from spring bloom to fall harvest.
Depending on the type of rootstock, 100 to 500 apple trees are planted to the acre.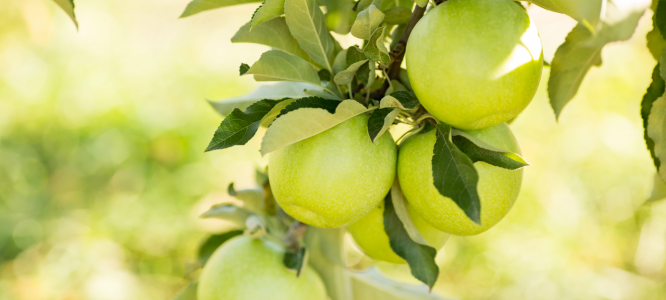 Apple Varieties
| Variety | Texture/Flavor | Fresh | Pie | Salad | Sauce | Baking | Availability |
| --- | --- | --- | --- | --- | --- | --- | --- |
| Albemarle Pippin | Rich, crisp, fine-flavored. | | | | | | November |
| Braeburn | Sweet and tart. Firm, crisp, and juicy. | | | | | | October |
| Empire | More sweet than tart. Extra crisp. | | | | | | September |
| Fuji | Sweet, crisp, all purpose. | | | | | | October |
| Gala | Light texture, sweet. Great for eating fresh. | | | | | | August |
| Ginger Gold | Sweet yet tart, crisp and juicy. | | | | | | August |
| Golden Delicious | Sweet and mellow. Excellent for all uses. | | | | | | September |
| Granny Smith | Tart, crisp, excellent for all purposes. | | | | | | October |
| Jonagold | Blend of tart Jonathan and sweet Golden. | | | | | | September |
| Jonathan | Moderately tart. Good for all purposes. | | | | | | September |
| Mutsu/Crispin | Sweet and slightly tart. Very firm, crisp and juicy. | | | | | | October |
| Pink Lady | Tangy, sweet, crunchy. | | | | | | October |
| Red Delicious | Tender juicy. Best for eating out of hand. | | | | | | September |
| Rome | Firm, slightly tart. Excellent for baking. | | | | | | October |
| Stayman/Winesap | Sweet and slightly tart. Firm and juicy. | | | | | | October |
| York | Tart, crisp. Great for cooking or eating. | | | | | | October |