Starting in June, the Mountain Grill is expanding its hours and serving a new farm-to-table, homestyle menu. Previously open only for Thursday dinners and special events, the Mountain Grill will now serve lunch 7 days a week, with additional weekend hours, and dinner during the Thursday Evening Sunset Series. Order at the counter and enjoy your food at the picnic tables overlooking the best view in Charlottesville.
Meet Chef Stefan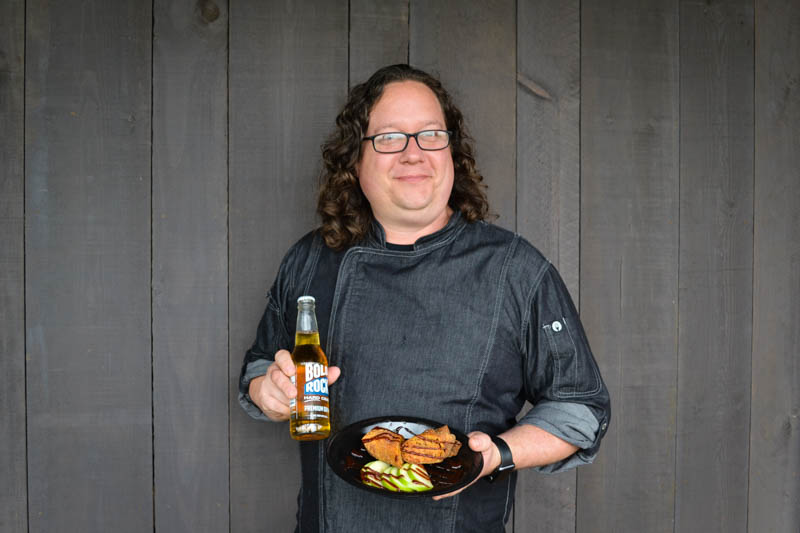 The Mountain Grill menu was developed by Executive Chef Stefan Boutchyard, an Orange County native, whose kitchen experience includes Head Chef at SeaWorld and, most recently, chef at Keswick Hall. "I've always wanted to run a restaurant with a large garden—now I have a whole orchard," says Chef Stefan, who uses orchard and local ingredients throughout the menu. Even the orchard trees are put to good use, providing the wood for the hickory and apple smoked pork barbeque, a standout on the menu.
Orchard-to-table Menu
"When you eat at the Mountain Grill, you're sitting in the middle of where the food came from. It's hard to get more farm-to-table than that," says Cynthia Chiles. "With our three orchards, we have a wealth of fresh produce to work with. It's Southern comfort food with an orchard twist."
Other grill offerings include a cider-brined chicken and brie sandwich, burgers with fresh cut French fries, Mexican street corn, and fried pork BBQ egg rolls. The menu features approximately 14 items, including a kids' menu, and will be updated seasonally, with specials offered for Thursday dinners.
Three-Season Dining Destination
The Mountain Grill expansion is part of a larger initiative to increase dining options across the orchards. Chiles Peach Orchard opened the Prince Michel Wine and Bold Rock Hard Cider tasting rooms in 2016 and recently extended its all-you-can-eat pancake breakfast to every weekend morning. "We joke that our famous cider donuts are always in season," says Cynthia. "With expanded dining options and tasting rooms at both orchards, we're now a three-season destination for local food and drink with a view."
C'mon out for daily lunch, Thursday dinner, or a snack!