Five Reasons To Eat An Apple Every Day
Your Diet – Apples are the perfect, portable snack: great tasting, energy-boosting, and free of fat.
Your Heart – Research confirms it! The antioxidant phytonutrients found in apples help fight the damaging effects of LDL (bad) cholesterol.
Your Digestion – Just one apple provides as much dietary fiber as a serving of bran cereal. (That's about one-fifth of the recommended daily intake of fiber.)
Your Lungs – An apple a day strengthens lung function and can lower the incidence of lung cancer, as well.
Your Bones – Apples contain the essential trace element, boron, which has been shown to strengthen bones – a good defense against osteoporosis.
Nutrition Facts About Apples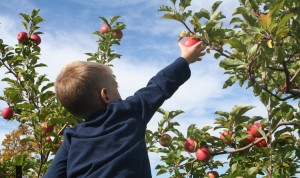 Virginia apples, pre-packaged in nature's own wrapper, are the perfect take-along foods for on-the-go teens and adults. With more than one-third of US adolescents overweight and with many more worried about it, the 80 calorie apple can be a delicious part of a nutritious weight control program.
Virginia apples contain no cholesterol, fat or sodium. They are high in complex carbohydrates and also contain Vitamin C and potassium with calcium, iron, carotenoids such as Vitamin A, thiamin, magnesium and phosphorus.
The homespun wisdom about apples is proving itself true in the lab. Not only are apples low in calories and high in fiber, but nutritionists and scientists are finding that apples can prevent health problems or at least reduce health risks our bodies face everyday. It's their preventative and curative properties that are capturing the spotlight in numerous studies around the world. Some of the studies have found:
Antioxidant phytonutrients in apple juice help reduce cholesterol, especially LDL cholesterol (low-density lipoproteins or bad cholesterol), helping prevent cardiovascular disease.
Antioxidant phytonutrients also help reduce the risk of heart disease and Phytonutrients in apples slow the growth of colon cancer and liver cancer in cells
Phytonutrients in apples lower the risk of thrombotic stroke.
Flavonoids, especially the flavonoid, quercetin, found in apples, appear to reduce the risk of lung cancer. Some studies suggest they cut the risk of lung cancer in half.
Apples appear to improve lung function , in general, because they contain antioxidants.
Apples help strengthen bones.
People with diets high in flavonoids, such as those found in apples, are 20% less likely to develop cancer.
Apples are high in fiber. About 80% of the fiber in apples is soluble fiber which reduces cholesterol. The remaining 20% is insoluble fiber which may help prevent cancers.
Potassium, which is found in apples, is important in regulating blood pressure.
One Great Little Food
Mother Nature was at her creative best when she came up with apples. They've got it all: taste, looks, and nutritional aspects that just won't quit.
Apples have no fat, cholesterol or sodium. Compare those stats to a bag of potato chips!
An average apple contains only 80 calories. Compare that bottom line count to a piece of cake!
Apples have five grams of fiber, 20% of the daily recommended fiber needs. That's more than most cereals!
Apples contain vitamins A, B1, B2, C, and Niacin; plus nutrients, Phosphorous Magnesium, Iron and Potassium. Apples are their own health food store!
Applesauce is a fat free substitute when cooking and can be used in place of oil or shortening. In addition to being health, applesauce makes baked goods taste moist.
When eaten as a snack, apples suppress hunger longer than junk foods and empty calories they contain. Apples are a great choice when dieting and trying to stave off hunger.