2017-04-15 19:00:00
2017-04-15 19:00:00
America/New_York
6th Annual "Eggstravaganza" and Easter Egg Hunt
Carter Mountain Orchard presents our annual Easter Egg Hunt and festivities, this year on Saturday, April 15th. Open from 10-5, we'll offer …
Carter Mountain Orchard presents our annual Easter Egg Hunt and festivities, this year on Saturday, April 15th. Open from 10-5, we'll offer Egg Hunts for children ages up to age 8, and a special agility race for those 9-13, plus visits with the Easter Bunny, lots of crafts, activities, hayrides, lunch, a special egg hunt for adults, and a good time! Eat an apple cider donut, enjoy a glass of wine or hard cider, and celebrate Spring!
Schedule of Events
Easter Egg Hunt Schedule: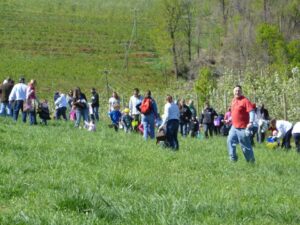 (ALL HUNTS WILL START PROMPTLY AT THE DESIGNATED TIMES)
10:30AM "Chickadee" Easter Egg Hunt for children up to age 2, plus special needs children (100 children max)
11:30AM Easter Egg Hunt for 3-4 year old children (200 children max)
12:30PM Easter Egg Hunt for 5-8 year old children (200 children max)
1:30PM Easter Agility Challenge for 9-13 year old children (100 children max)
2:30P "Never Grow Up" Easter Egg Hunt – an Adult-Only Easter Egg Hunt, sponsored by Prince Michel Winery and Bold Rock Hard Cider! Must be 21 or older to participate. Advance Registration Required – CLICK HERE for details and registration
Online registration for the children's egg hunts is now closed. You may buy tickets on site on the day of, up to 15 minutes prior to the beginning of the hunt or until sold out, whichever comes first. Please note, there are no refunds, unless Carter Mountain cancels the event due to extreme conditions.
Other Activities for the Day:
Apple Cider Donuts - all day, or until they are all gone!
Hayrides offered from 11A-4P (weather and crowd dependent)
Light Fare Lunch served from 11AM-3PM
Craft Station - all day
Easter Bunny visits – all day
Prince Michel Wine Shop and Bold Rock Hard Cider Cellar open 11AM-5PM
Costs
Easter Egg Hunt/Easter Agility Challenge - $6.00 per child, includes a "decorate your own bag" for egg gathering, and 1 hayride ticket
Hayrides – $3.00 per person ages 2 and above (1 hayride ticket is included with each egg hunt admission).
Never Grow Up Adult Egg Hunt – $12.00 per person- CLICK HERE for advance registration (required)
Crafts – FREE, no charge!
Visits with Easter Bunny - FREE, no charge!
FAQ for the Easter Egg Hunt
I'll just bring my own basket, okay??
A bag for gathering eggs will be provided. To be fair, all participants will use the same size bag. You can transfer your eggs into your Easter basket after the hunt!
I'm running late, can you wait a few minutes?
All hunts will start on time. Please arrive at least 30 minutes prior to the start of the hunt in order to purchase tickets, get your bag and instructions, and be in place before the hunt begins.
Even if I arrive late, my child can still participate, right?
The Easter Egg hunts are fast and furious! Even with all the eggs that are hidden, the hunts are over in just moments. Please arrive early so your child can enjoy the event!
I'm just going in with my child to help him/her get the eggs, okay?
The Easter Egg hunt is for the children. Parents may view and take photos from outside the designated area and are not permitted to enter the hunt. (Please note, in our Chickadees hunt, parents may walk with their child – please let the children gather the eggs)
Even though my children are different ages, I want to put them in the same hunt. Is that okay?
We find it most fair to keep children in the proper age groups. Thank you for your cooperation!
What is the Easter Agility Hunt? I've never heard of it.
This is a new event! Think "Ninja Warrior" meets the Easter Bunny! For our older children (9-13) who still want to be in on the fun, but don't find the egg hunts challenging. We'll have an obstacle course with lots of fun, and funny, challenges!
I purchased my tickets ahead of time, but now we can't make it. Can I get a refund?
Unfortunately there are no refunds, unless Carter Mountain cancels the event due to extreme conditions. If you purchase your tickets in advance but find you cannot come, please transfer them to a friend!
What is in the eggs?
Our eggs are stuffed with hard candy and prizes. Parents should monitor their children when they are opening eggs.
Oh my gosh, what will I do with all these eggs?
We do recycle and re-use the plastic eggs for future years, so if you don't want to keep the eggs, please leave them with us in the designated areas.
How many eggs will you hide?
Our Easter Bunny is efficient – each year we hide literally thousands of eggs!