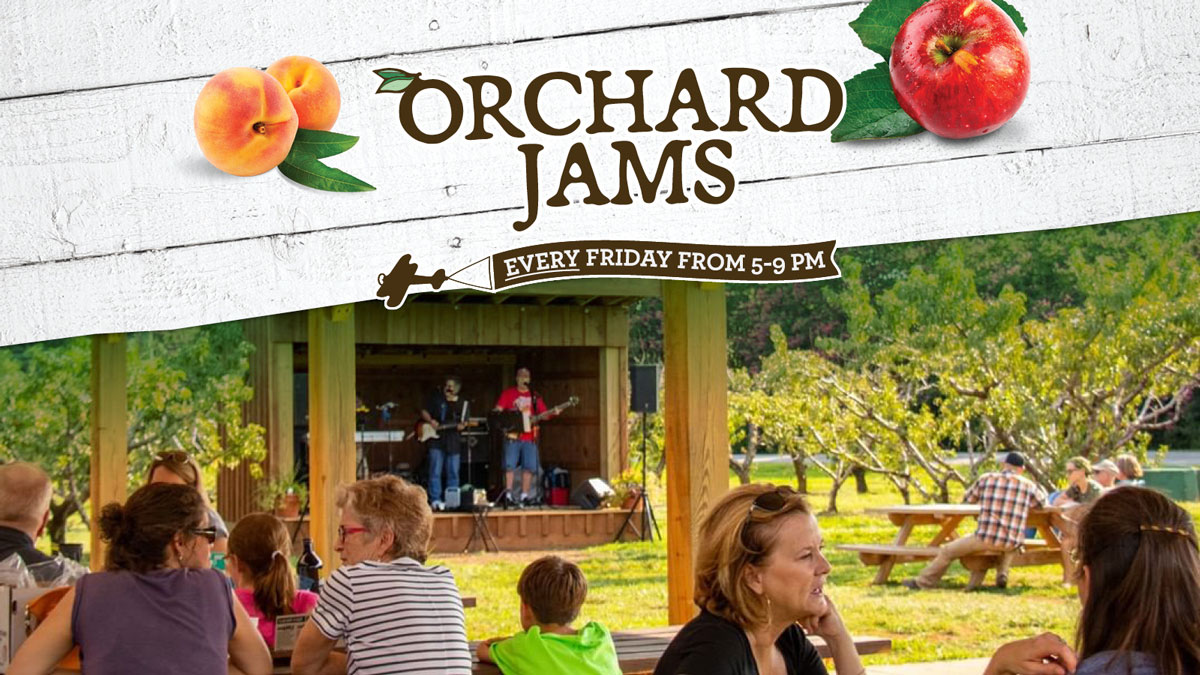 Orchard Jams
Join us for great live music, refreshing craft hard cider, and delicious eats at Bold Rock's Orchard Jams, a free weekly live music series at Chiles Peach Orchard!
Due to COVID-19, we have several policies in effect:
We reserve the right to cut off admission if we reach capacity.
NO PETS PERMITTED
No outside food or beverage permitted.
Please social distance at all times.
Please wear a mask or face covering while in our farm market, restrooms, and the Bold Rock Tap Room.
---
2020 Musical Lineup
7/3 – Mark Nicholson & the Distance
Mark Nicholson and The Distance is a rock and roll band based out of  Roanoke, Virginia. With a focus on well-crafted songs mixed with improvisation, the band strives to bring a passionate new take on blues-based rock and roll with every performance. marknicholsonandthedistance.com
7/10 – Marshall Artz
Marshall Artz is a guitar duo performing a distinctive original blend of Americana, Indie Folk and Blues forged together in a powerful acoustic style. The duo features the combined talents of Brad Marshall on lead, rhythm, and slide guitar and Kevin Artz on rhythm and fingerstyle guitar, vocals and harmonica. Brad's background in rock and blues meets with Kevin's background in folk, folk-rock and bluegrass to create an original and dynamic acoustic sound. Their performances blend two guitars into a rhythmic and melodic mix that suggests a full band rather than just two guitars. marshallartz.net/home
7/17 – Jon Spear Band
The Jon Spear Band can be adventurous in its musical tastes but never strays very far from its blues roots which provide the foundation for the band's music. Nominated by Blues Blast Magazine for the prestigious best Live Blues Recording of 2016 award, all three of the Jon Spear Band's CDs have charted in the US, France, UK, Spain, and Australia and have been listed on the annual top 100 Roots Music Report Contemporary Blues Chart for the past three consecutive years. The band has opened for nationally touring acts including Debbie Davies, Delbert McClinton, Anson Funderburgh, the Iguanas, the Chris Duarte Group, Memphis Gold, and more, and competed in the 31st and 33rd International Blues Challenge in Memphis, TN. jonspearband.com
7/24 – Paulo Franco & the Freightliners
Paulo's songs are steeped in storytelling, often drawing from his own life and those around him. The sound is a seamless blend of the myriad of influences that have shaped both his everyday life and his musical tastes. Listeners will find glimpses of the eclectic style of Los Lobos, Robert Earl Keen's storytelling, John Prine's wit, The Stones' rock n roll heart, and the fluidity of The Grateful Dead often times infused with the rhythms of traditional Latin and Colombian music. He has recently included original Spanish songs into his songwriting, bringing a depth and a love of two cultures seldom seen during the same show or album. Paulo switches his voice from country twang, to rock anthem, to Spanish troubadour with ease. His vocals are so authentically Spanish that it's easy to forget you just heard him effortlessly sing a country tune in English. peflmusic.com
7/31 – Adrian Duke (Trio)
Where New Orleans blues, classic soul, and Americana collide is where he lives. adrianduke.com
8/7 – Jon Spear Band
Blues roots provide the foundation for the band's music. jonspearband.com
8/14 – Loose Ties
Based out of Annapolis, MD, Loose Ties, are known for their upbeat, melody-driven, touch your soul kind of music with vocal harmonies to match.  Influenced by bands like The Eagles, The Beatles, Red Hot Chilli Peppers, and Jason Mraz, Loose Ties music touches all over the musical spectrum. loosetiesmusic.com
8/21 – Root Cellar Remedy
With a sound contrived in a basement in Charlottesville VA, Root Cellar Remedy (formerly East High Cellar) has combined influences of classic and modern rock with blues and folk to develop a sound best described as "bonfire rock". The live show is dynamic, high-energy and inspiring. facebook.com/therootcellarremedy
8/28 – FarAway
Wide range of covers from classic rock to '90s alternative rock hits to singer/songwriters and folk music. farawaysongs.com
9/4 – Mark Nicholson & the Distance
A passionate take on blues-based rock and roll with every performance. marknicholsonandthedistance.com
9/11 – Small Town Rodeo
Rooted in fertile musical grounds of Central Virginia, Small Town Rodeo loves playing good tunes for nice folks as the sun makes its way over the Blue Ridge mountains. They look a lot like a bluegrass band, but that won't stop them from playing anything that's got a little twang to it! smalltownrodeo.com
9/18 – SuperUnknown
90s cover band with alt-rock hits and deep tracks from the last decade of the 20th century.
9/25 – Greg Ward (Trio)
Original songs and chart-topping covers with natural reggae rhythms. gregwardmusic.com