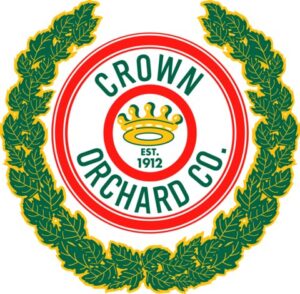 Mountain Grown Since 1912
Crown Orchard Company is one of Central Virginia's most prolific fruit growers, boasting seven major orchards spread over a 15-mile radius. Owned and operated by the Chiles family, the company has many acres of peaches, nectarines, and apples.
Crown Orchard is a major wholesale supplier for the region, thanks in part to a state-of-the-art packing facility located in Covesville, Virginia and a full-year staff.
The company also owns and operates Carter Mountain Orchard, Chiles Peach Orchard, and Spring Valley Orchard.
Family Matters
The Chiles family has owned and operated Crown Orchards since the year 1912. That means that four generations of family members have literally had their hands in building not only one of the area's most successful fruit wholesaling businesses…but some of its greatest traditions as well.
Today the family, including Ruth & Henry, Cynthia, Sarah, Huff & Judy, Lizzy, Ally & Henry, continue this remarkable record of commitment to the community…and look forward to serving it for generations to come.
---
Donut Peaches Available Soon!
Donut Peaches are a sweet, juicy, saucer-shaped delicacy available for distribution starting late June through August.
For wholesale pricing information or to place an order today, call Henry Chiles at 434.977.0619, or email Henry@crownorchard.com.
Available Pack Styles
Clamshell – 16×1.25
Panta Pak – 32-40 count
Pouch Bag
---
Crown Orchard Company
mail to: PO Box 299, Batesville VA  22924
ship to: 5861 Piedmont Apple Lane, Covesville VA  22931
phone: 434-977-0619
fax: 434-979-6277
email: info@crownorchard.com